Weisshaus is a white DOC wine produced in Trentino Alto Adige by Colterenzio. It has a bright light yellow color, has a delicate scent of sweet fruit and its taste is elegant and persistent
Delivery within 24 working hours
Aggiungi alla lista dei desideri
Scheda tecnica
Product

Weisshaus Pinot Bianco
Classification

Pinot Bianco DOC
Denomination

DOC
Vintage

2014
Tipology

Vino bianco
Provenance

Italia
Production area

Trentino Alto Adige
Grape variety

100% Pinot Bianco
Altitude

450 meters s.l.
Type of soil

Morainic and calcareous
System of cultivation

Espalier and pergola
Ageing potential

From 1 to 5 years in excellent storage conditions
Serving temperature

12-14 °C
Pairings

Ideal for first courses and summer dishes, fish and seafood, white meats and fresh cheeses
Bottle

0,75 l.
Color

Bright light yellow with subtle greenish-green reflections
Perfume

Delicate hints of apple and pear
Flavor

Elegant and stimulating
TERROIR
"The terroir is the set of those natural and cultural elements that make a wine unique."
Alto Adige owes its uniqueness to a harmonious union of opposites, where north and south and the German-speaking and Italian-speaking area merge into a whole, between whitewashed mountains and fertile valleys, in a climatic area without equal at the crossroads of the Sea Mediterranean and the Alps. It is here that an exciting microcosm takes shape, which in turn gives life to characterful nectars. In the southern part of the province, about 10 km from Bolzano, extends the territory of Oltradige with the Municipality of Appiano on the Wine Route, the largest continuous area planted with vines in South Tyrol, while in the background there is a suggestive hilly landscape of the last ice age, dotted with picturesque towns. Of the 300 members of our winery, most grow their own vineyards in the area surrounding Colterenzio, Cornaiano and Appiano, while others also give their grapes from the area of ​​Bolzano and surroundings and from Salorno, on the border with Trentino. This vast reference area guarantees a wide variety: 12 different qualities grow in vines between 230 and 650 meters high, compared to an extremely diversified soil composition. The barrier of the Alps, 18,000 hours of sunshine a year, the winds of Lake Garda, the warmth of daylight hours and the coolness of the night ones create the ideal conditions.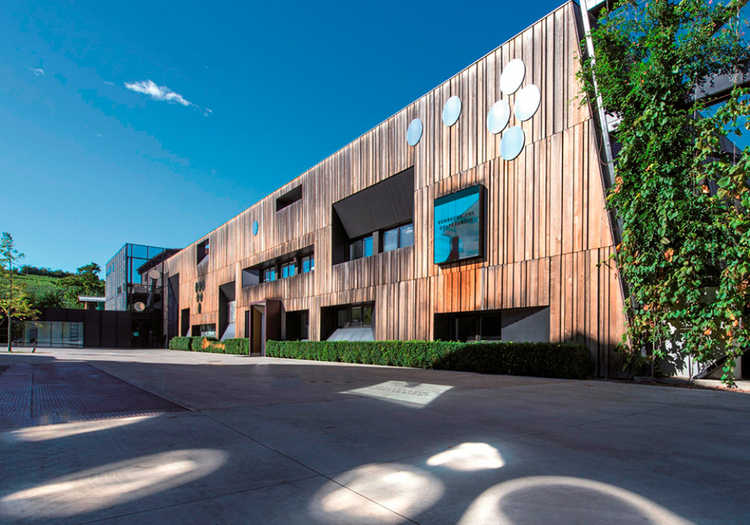 Guarda altri 16 prodotti nella stessa categoria:
The Pinot Grigio Valdadige of Santa Margherita is a straw-colored wine with an intense aroma and a dry taste with a hint of golden apple. Excellent as an aperitif and ideal to combine with white meats, fish and...
Pinot is a white DOC wine produced by Terlan in Alto Adige. It has a straw-yellow color and shows fruity and citrus notes on the nose. The taste is thin and pleasantly fresh
Impressive and complex is the noble blend of white Pinot, Chardonnay and Sauvignon Blanc. This classic Terlaner resembles all the advantages of its production area, and presents itself as a vigorous wine, rich in...
Selida di Cantina Tramin è un 100% Gewurztraminer prodotto in Alto Adige. Si presenta con un colore giallo paglierino; il profumo è bello, esotico. Al palato si apprezza la sua intensa aromaticità, l'armonia, la...
A decidedly intense white wine, in color, aroma and flavor. Its secret lies in the particularity of the production area - the hills of Appiano Monte - scarce of quantitative yields, but decisive in highlighting the...
Quello di Kofererhof è da considerarsi il Riesling meglio riuscito della regione. Si tratta di un prodotto dall'ottimo rapporto qualità prezzo che sicuramente lascerà un senso di grande soddisfazione anche ai palati...
Lafoà Sauvignon Blanc is an excellence by Colterenzio from South Tyrol. It has a straw yellow color, the nose has fruity notes of elderberry, hints of vanilla and acacia flowers. It has an acid but harmonious flavor...
The Premium line represents the perfect union between grape variety, territory and microclimate. The choice from the oenologist of the variety suitable for the soil, gives life to typical, characteristic and complex...
It was in 1989 that the bases of the most famous white wine in the San Michele-Appiano cellar were laid. For more than 20 years, the Sauvignon Sanct Valentin benefits from the exceptional conditions offered by the...
This wine is part of the project to recover Trentino old native varieties of vine and make them into wine. Blanc de Sers is obtained from theWanderbara, Vernaza, Veltliner Rosato and Nosiola varieties.SERSO, near the...
The "Traminer Aromatico", already known in the thirteenth century, is today the most famous South Tyrolean wine. Most likely it has its origins in Termeno (Tramin), the country from which it has been named "Traminer"....
I clienti che hanno acquistato questo prodotto hanno comprato anche:
L'atto, produced with Aglianico del Vulture by Cantina del Notario, is ruby red. The nose has hints of marasca and ripe plums with spicy hints. Taste, fruit notes, polished tannins and a pleasant freshness make it a...
Banfi's Pettegola is produced with Vermentino grapes vinified alone. He is young, sincere and honest, he is versatile and thought to be enjoyed immediately. It expresses a rich aroma, but above all it is characterized...
Gewürztraminer Natura is born in vineyards located in the Rapel Valley, in the heart of Chile. It is produced exclusively with Gewürztraminer grapes harvested by hand during the first week of March. The Gewürztraminer...
Coyam, by Emiliana, has a purple-red intense color, with a bouquet of red and black ripe fruit, accompanied by notes of spice, earth and a vanilla flavor. It gives a balanced and full flavor to the palate. Good...
Crema di Cioccolato e Rhum, come da antica tradizione napoletana. Un prodotto artigianale di una bontà e qualità davvero uniche, per condividere con la famiglia o con gli amici dei momenti davvero unici. Prodotto in...