Trigaio is a wine in which enhance and balance the characteristics of the vines in youth. And 'an extemporaneous and exuberant Aglianico. It is ruby red and the nose expresses its freshness and youth. It has a well-balanced body and is ideal to accompany the meal every day.
Delivery within 24 working hours
Aggiungi alla lista dei desideri
Scheda tecnica
Product

Trigaio
Classification

Rosso Aglianico
Denomination

DOC
Vintage

2014
Tipology

Vino rosso
Provenance

Italia
Production area

Campania
Production area (municipality)

Sorbo Serpico
Grape variety

100% Aglianico
Manufacture

Aging 4 months in stainless steel tanks
Fermentation

Fermentation and maceration in stainless steel tanks for about 2-3 weeks
Alcohol

13,00% vol.
Serving temperature

14-16 °C
Pairings

Perfect with simple meat dishes, such as grilled
Bottle

0,75 l.
Color

Ruby red with violet reflections
Perfume

It expresses its youth and freshness with aromas of red fruits such as cherries and raspberries
Flavor

Body well balanced and great freshness
HISTORY
One of Feudi di San Gregorio's most important visions is to believe that the birth of a wine has the same creative process as a work of art. Love and passion in caring for plants, commitment to harvesting grapes and patience while waiting for mature wine, make every bottle express its personality and become a work of art. with this approach the collaborations with great masters and talented youngsters are born, aimed at continuing and increasing the will of a continuous exchange of knowledge and creativity between wine and art. The same feelings and emotions lead the creative path of a artist, which leads him to create a sculpture, a photograph, a painting, an installation.
CELLAR
Feudi di San Gregorio is today the symbol of the enological renaissance of southern Italy and of a culture of drinking aimed at rediscovering the identity of Mediterranean flavors. Valuing the vines of Southern Italy such as Aglianico, Fiano di Avellino and Greco di Tufo, investing in the land and in the centuries-old tradition of Irpinia viticulture, restoring a future to a unique environmental heritage. Climb the hill towards Sorbo Serpico, enter a magical world, between unexpected water places, spice gardens and blooming roses. However, the biggest surprise is inside the cellar: the long barrel cellar that houses red wines. The intent is to go beyond the concept of wine cellar, making it become a forum, a place for meeting, for comparison, for knowledge, for meditation, a laboratory of ideas and culture, a place of welcome and refreshment. The project was attended by world-class professionals: the Japanese architect Hikaru Mori had the difficult task of giving architectural unity to the pre-existing structures, developed over time. Massimo and Lella Vignelli, symbols of Italian design in the world and "authors" of the company's labels, have designed the furnishings and interiors.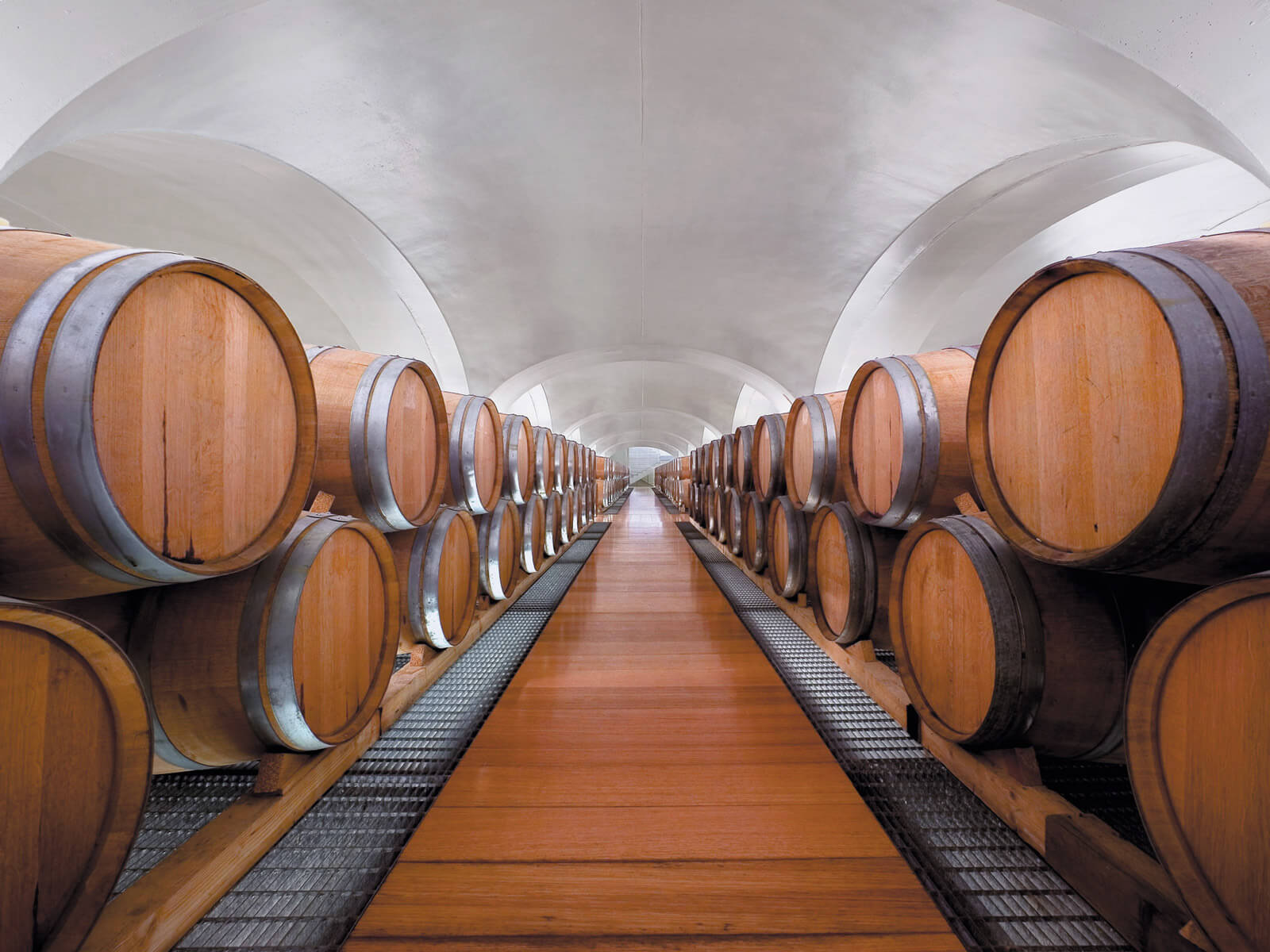 Guarda altri 16 prodotti nella stessa categoria:
The "home tower": robust, energetic, strong, adolescent like the vineyards from which it is produced. It has the intimperations of a teenager, who, when he is mature, cuts off everything and dispenses sweetness, is...
Fatica Contadina is a Taurasi DOCG produced by Teredora in Campania. It has an intense ruby red color with garnet damascations. At first sight you can smell fruity and mineral notes. On the palate it was soft,...
Renonno is produced from the historical vineyards inherited from the grandfather. A part of the vineyard has already been replanted with the same varieties of Aglianico from ultra-centennial vines originally on the...
Aglianico del Sannio Sebastianelli is one of the top-selling wines of the area due to its great flexibility which makes it a complete meal and exceptional quality / price ratio. It is a wine that grace its intense and...
Taurasi by Cantine di Prisco is a red wine produced in Campoania. It has a red color tending to garnet, has an extremely dense perfume and a full, complete and balanced taste. excellent to combine with truffles,...
The name Ambruco derives from the linguistic contamination of "vitis labrusca", that is wild vine. In the locality of the same name, there were centuries-old plants of wild vines considered by the peasants for their...
The Gragnano of the Sorrento Peninsula doc is by far the red wine of the city of Naples and is considered the best match with the true Neapolitan pizza. It is a lively red wine - with hints of purple, strawberry, rose...
Campantono, of the company Gennaro Papa, has a very intense ruby red color, has an aroma of ripe red berry fruit, spice and roasting and has a fine, fine and persistent taste. It is great in combination with red meat,...
Sabbie di sopra al Bosco by Nanni Copè is a famous still red wine. It exudes aromas of wild berries, flowers, aromatic herbs and woody spices that enrich and render complex an elegant and structured profile, of great...
Memini is the aglianico of which Raffaele Guastaferro is proud. We are talking about a wine of incredible pleasure that is expressed on the palate in an excellent way. Unique in its kind, even if offered at a...
Campania Aglianico by Donnachiara is a wine produced in the province of Avellino in the municipality of Montefalcione. It has an intense ruby red color, an elegant and fruity bouquet and an overwhelming taste. The...
Barbetta Barbera of Antica Masseria Venditti is an organic wine produced in Sannio. It has a ruby red color with violet reflections, the nose is fruity with hints of cherry and has a soft, dry and persistent taste.
I clienti che hanno acquistato questo prodotto hanno comprato anche:
The Sorrento Gold is the unmistakable typical liqueur obtained by the infusion of Sorrento I.G.P. in pure alcohol and sugar, according to the traditional Sorrento recipe, which gives the finished product the...
Sicilian vineyards cultivated on hot and sunny hills are the birthplace of Corvo Rosso, the Sicilian classic. Refined in oak barrels, it is characterized by a full, savory and persistent taste. Along with Corvo...
Ocra, a word of Etruscan origin that means "the blood of the earth", is born in the vineyards of Bolgheri. Vinified with careful control of fermentation temperature and refined for 12 months in oak barrels, this wine...
Blue Blood, produced by the Torre Quarto company, has a brilliant ruby red color, an intense scent of fruit and a delicate and harmonious taste, all set on softness. It is a full-bodied wine, but in particular an...
Amineo is a Coda di Volpe wine produced 100% by Cantina del Taburno in the homonymous locality. It has a straw-yellow color, the nose reveals fruity and the tasting is full of balance, with hints of exotic fruit and a...
Red from the original aromatic wealth, produced in the organic farm Masi Tupungato in Mendoza, Argentina. Modern, non-conforming wine, striking for fruity intensity and light spice. It takes its strong and generous...