Tres Uves by Barranco Oscuro is a product characterized by varied aromas and explosive flavors, ready to turn out with all their strength as soon as the bottle breaks out. Produced with Vigiriega, Viognier and Vermentino grapes, it has a straw yellow color tending to the golden. The fragrances are explosive, with notes that recall apple, alcohol and spices. On the palate it is full, rich, structured, enveloping and very fresh. It closes with a definite long and persistent finish.
Data sheet
Product

Tres Uves
Vintage

2016
Tipology

Bio wine
Provenance

Spain
Production area (municipality)

Granada
Grape variety

Vermentino
Vigiriega
Viognier
Altitude

1400 meters s.l.
Serving temperature

10-12 °C
Pairings

It combines both prime dishes of fish sauces, and a second of white meats cooked with light preparations. Absolutely to try with the chicken to the east
Bottle

0,75 l.
Color

Straw yellow tending to the golden
Perfume

Explosive, with notes that recall apple, alcohol, spices and mineral nuances
Flavor

Full body, rich, structured, enveloping and very fresh. It closes with a definite long and persistent finish
HISTORY
In the heart of Andalusia, in the small town of Cadiar, is located the Bodega Barranco Oscuro, a farm owned by Manuel Valenzuela. Manuel, born in 1943 in Marchal, is the penultimate of 9 brothers, and is sent to study with many sacrifices by his modest family in Guadix, where he obtains a diploma and then a Madrid to become an expert in chemistry.The hectic life of the city is not done and after many decisions they decide to return to the serenity of the countryside. At the end of 1979, after marrying Rosa, he and his friend Giorgio crowned his dream and moved to Granada Alpujarra in the Serra Contravie, where the Barranco Oscuro Estate is located, at an altitude of 1368 meters. This large farmhouse was built at the end of the nineteenth century and dominated a land of over 100 hectares mostly cultivated with a vineyard and had a huge, very well-organized cellar.However, the arrival of phylloxera had stopped all activity and I had destroyed all the vines, which had been replaced by almond trees. Manuel, before starting the cultivation of vines, embarks on a journey along the Mediterranean coasts to keep up to date and acquire the necessary skills to start in an organic cultivation, absolutely unknown in those areas.The cultivated vines are those typical of Contraveisa such as the Tempranillo, the Garnacha, the Pedro Ximenez, in whose name Manuel combines the first international grape variety: the Cabernet Sauvignon. These vineyards, which cover an area of ​​12 hectares, are the highest in Europe, and have arid, poorly schist soil, with scarce difficulties and naturally cultivated crops. Even in the cellar all chemical interventions are banned in order to produce ecobiological wines with a unique and unrepeatable taste, born from the stubbornness of a man who wanted to realize his dream.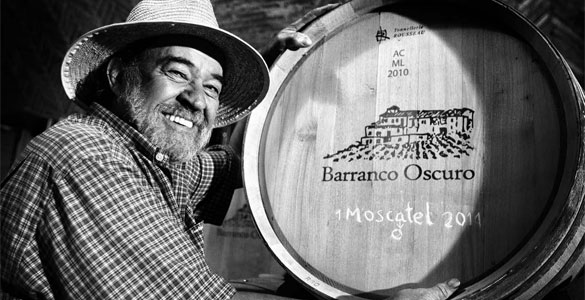 3 other products in the same category: