Torre di Giano is a white DOC wine produced in Umbria by Lungarotti. It has a bright straw yellow color; on the nose you can perceive fruity and citrus notes. On the palate it is dry, of good structure and with good acidity, long persistent.
Delivery within 24 working hours
Aggiungi alla lista dei desideri
Scheda tecnica
Product

Torre di Giano - Torgiano
Classification

Bianco IGT Umbria
Denomination

DOC
Vintage

2013
Tipology

Vino bianco
Provenance

Italia
Production area

Umbria
Grape variety

70% Trebbiano, 30% Grechetto
Harvest Time

Month of September
Winemaking

From flower must, fermented in steel and conserved on fine lees until bottling
Gambero Rosso

3 glasses
Ageing potential

It is preferable to drink it fresh, aged for a maximum of 1-2 years
Curiosity

Uno dei primissimi DOC italiani (1968) Il nome richiama alle origini romane di Torgiano, testimoniate dalla torre dedicata a Giano, il dio bifronte In etichetta un bassorilievo raffigurante la vendemmia, particolare della Fontana Maggiore di Perugia, la più bella fontana di piazza del XIII sec
Serving temperature

10-12 °C
Pairings

Excellent aperitif, elegantly accompanies pastas, risottos, white meats, fish and seafood, onion soup, raclette, soft cheeses, even cooked and norcinerie
Bottle

0,75 l.
Color

Straw yellow with greenish reflections
Perfume

Fruity and citrus
Flavor

Dry, with good structure and with good acidity
HISTORY
The Cantine Lungarotti is a wine production house that has its center of activity in Umbria, between Torgiano and Montefalco. The company was born in Torgiano in 1962 on the initiative of Giorgio Lungarotti, an agricultural entrepreneur who, consistently with the most innovative winemaking trends of the time, works to enhance local vines, in some cases recovering those that disappeared following the phylloxera epidemic of the late nineteenth century, in others introducing new species and experimenting with new production systems in the vineyard as in the cellar. After the first awards (the attribution of the DOC mark dates back to 1968, first for Umbria and fifth in Italy, for the Rosso and Bianco di Torgiano and in 1990 the DOCG for the Torgiano rosso riserva), the Cantine Lungarotti is open to the international market. They are also distinguished by an important cultural investment that results in the establishment in Torgiano of a museum center consisting of the Wine Museum and the Olive and Oil Museum, both managed by a foundation dedicated to research and the enhancement of the culture of wine in Italy. In recent years, Cantine Lungarotti has expanded its field of action with the plant in Montefalco of a winery dedicated to the vinification of the local Rosso and Sagrantino.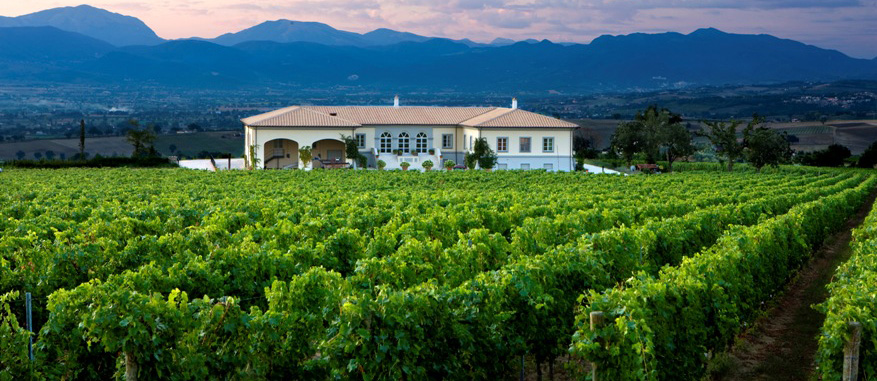 Guarda altri 5 prodotti nella stessa categoria:
Vipra Bianca comes from Grechetto and Chardonnay Umbrian grapes, vinified with a slow fermentation of about 3 weeks in stainless steel vats, strictly at controlled temperature. The wine is of brilliant straw yellow...
Cervaro della Sala is a white IGT wine produced by Antinori in Umbria. It has an intense and aromatic scent, the taste is well structured and mineral. It is ideal to combine with tasty first courses
Santa Cristina is a white IGT wine produced by Antinori in Umbria. It has a straw-yellow color, its taste is fresh, with good softness and a savory finish. It is excellent to combine with pasta dishes, and is great to...
The "Ciliegiolo di Narni" is wholly produced and bottled at the origin by the farm of Leonardo Bussoletti in the town of Narni in Umbria. Tasting this cherry wood, we contribute to the restoration of the thirty-three...
The San Giovanni della Sala is a wine that has a long history. It was born in 1990 and become "Classico Superiore DOC" after 7 years. It presents the organoleptic characteristics very special with a scent of citrus,...
I clienti che hanno acquistato questo prodotto hanno comprato anche:
Perhaps the most important grape native of South Tyrol, the Lagrein has a ruby red color and intense garnet red, with a pleasant scent of violets and blackberries. The taste is full, round and with good structure....
It is red with a balanced body, it has fine ruby color and spices that are typically spicy, with strong references to pepper and sweet tobacco and red and violet jam. It has a good drinkability, has good...
The Preliminary, of the Notary's Cellars, is of straw yellow, crystalline. The nose offers eye-catching almond scents and exotic fresh fruit: pineapple and mango. The taste is distinguished by the remarkable flavor...
A line of sparkling wines, young and innovative packaging. The White maremosso has fresh flavor and slightly acid that is well suited to an aperitif or to accompany dishes based on fish and seafood. Perfect served...
Montecucco Rosso is a wine produced from vineyards placed at 300 m. On the sea level with different exposures and land composition. It has a nice impact on the nose, where fresh and vivid notes of cherry and berry are...
Valpolicella Superiore, made with Corvina, Corvinone, Rondinella and Croatina grapes, from the company Sartori, is ruby red with a scent of berries, from currant to sea jam, with tobacco bottoms and light leather. You...
Vigna Cicogna Greek of Tufo is the wine of the wine cellar of Benito Ferrara. It is a white wine of great intensity and sense of authority in taste, which slowly opens to clear and legible flavors. With herbs and...
Coda di Volpe IGT is a white wine produced by Terredora in Irpinia. Its citrus, fresh, soft taste makes it an excellent match with spring or summer dishes