Label designed as a sign of friendship for the Lungarotti family and a carrier of multiple meanings closely linked to the vine, the union between the vines, the vine of the press and with it to life. Toralco has a deep ruby red color, a large and complex bouquet with delicate hints of boisé, elegant finish and full and round texture.
Delivery within 24 working hours
Aggiungi alla lista dei desideri
Scheda tecnica
Product

Toralco
Classification

Umbria Red IGT
Denomination

IGT
Vintage

2009
Tipology

Vino rosso
Provenance

Italia
Production area

Umbria
Grape variety

Sagrantino
System of cultivation

Double twisted cordon
Plant density

5000 strains per hectare
Type of harvest

Manual
Harvest Time

The Merlot harvested in September, Cabernet and Sagrantino, are harvested in October
Yield per hectare

70/ha
Winemaking

Fermentation in steel with maceration on the skins for 20 days. They are 1 year in barriques and 3 years in bottle
Alcohol

13,50% vol.
Recommended glass

Goblet of good amplitude
Serving temperature

16-18 °C
Pairings

It is enhanced with roasted red meats, game, but also meats and cheeses
spicy. Great risotto with gorgonzola and Toralco
Bottle

0,75 l.
Color

Deep ruby red, with light violet reflections
Perfume

Broad and complex bouquet, delicate hints of boisé (vanilla, chocolate and sweet spices); final
elegant with balsamic reminders and blackberry
Flavor

Of full and round texture, it is characterized by a mouth marked by great softness, good
delicate acidity and persistence; long finish slightly mineral
HISTORY
The Cantine Lungarotti is a wine production house that has its center of activity in Umbria, between Torgiano and Montefalco. The company was born in Torgiano in 1962 on the initiative of Giorgio Lungarotti, an agricultural entrepreneur who, consistently with the most innovative winemaking trends of the time, works to enhance local vines, in some cases recovering those that disappeared following the phylloxera epidemic of the late nineteenth century, in others introducing new species and experimenting with new production systems in the vineyard as in the cellar. After the first awards (the attribution of the DOC mark dates back to 1968, first for Umbria and fifth in Italy, for the Rosso and Bianco di Torgiano and in 1990 the DOCG for the Torgiano rosso riserva), the Cantine Lungarotti is open to the international market. They are also distinguished by an important cultural investment that results in the establishment in Torgiano of a museum center consisting of the Wine Museum and the Olive and Oil Museum, both managed by a foundation dedicated to research and the enhancement of the culture of wine in Italy. In recent years, Cantine Lungarotti has expanded its field of action with the plant in Montefalco of a winery dedicated to the vinification of the local Rosso and Sagrantino.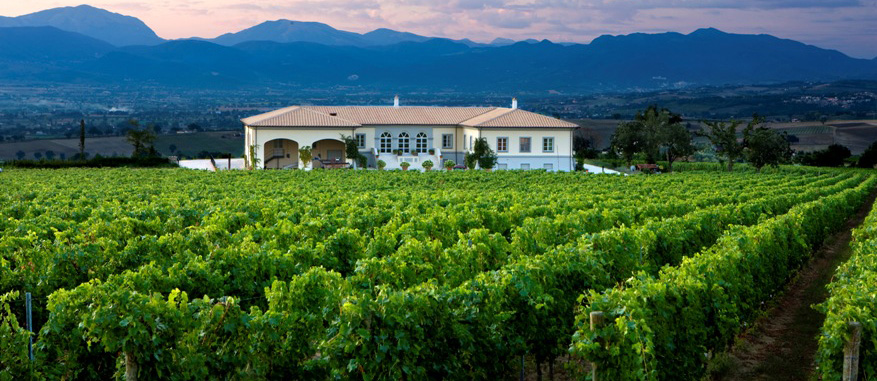 Guarda altri 11 prodotti nella stessa categoria:
25 anni by Arnaldo Caprai is a 100% Sagratino DOCG produced in Umbria. It shows a deep ruby red color; the bouquet is intense, with fruity and warm notes. On the palate it is soft, persistent, with a long and spicy...
It is red with a balanced body, it has fine ruby color and spices that are typically spicy, with strong references to pepper and sweet tobacco and red and violet jam. It has a good drinkability, has good...
The fruit of the Prince's grape variety, coming from grapes grown in organic farming at 450 meters s.l.m. On shallow soils with a density of 5000 plants/bushed with cordoned twigs. A complex structure wine, aged in...
Rossobastardo, from Cantina Cesarini Sartori, is an Umbria IGT wine produced from grapes grown in the municipality of Gualdo Cattaneo. From ruby red color, it smells to the smell of notes of blackberry and black...
Collepiano by Arnaldo Caprai is a 100% Sagratino DOCG produced in Perugia. It has an intense red color, the nose expresses hints of blackberry jam, pepper and vanilla. On the palate it is powerful, elegant, with a...
Summary of Sagrantino's power and the elegance of Sangiovese, the Red Montefalco of Lunelli Estate expresses the full fascination of a territory of ancient traditions. The nose immediately affects the elegance and...
The charm and the seduction, in balance with tradition and originality, transform this wine, whose name is inspired by the noble Orvietan family Monaldeschi of Vipera, at a special moment in everyday life. Red Vip,...
Sagrantino di Montefalco is a red DOCG Umbro wine produced by Lungarotti. It shows a red color saturated with violet reflections; on the nose, fruity notes and sweet spices are appreciated. Tannins are strong on the...
Carapace by Tenute Lunelli is a Montefalco Sagratino DOCG organic produced in the Castelbuono estates in Umbria. The nose is fruity, with hints of blackberry and blueberry jam and intense notes of cherry in spirit,...
I clienti che hanno acquistato questo prodotto hanno comprato anche:
Vandari Falanghina of Antica Masseria Venditti produced in Sannio Benevento. It has a straw-yellow color, has a dry and well-balanced acid taste. The glasses are endowed with great strength thanks to the mineral notes...
With the 1983 vintage, which was released in May 1984, Vincae called the Yellow Ribbon to recall the centenary of work and dedication to the Vermont and five generations of Jermann wine. Vinnae, a mixture of Ribolla,...
Ruit Hora is a DOC red wine produced by Caccia al Piano in Tuscany. It has a dark ruby red color and the nose is expressed in complexity between fruit jam and spices such as black pepper and vanilla. The velvety...
Considered the king of wines, he has superior characteristics, with velvety, elegant taste and intense aroma; It is vinified with the most modern technology but always in the respect of the traditions, with a...
The cup is colored by a dark but bright ruby, the scents are of great impact, with an intense fruity fill of blackberry and cherry, enriched with notes of herbs, cinnamon, cloves, cocoa, licorice and an intriguing...
It is red with a balanced body, it has fine ruby color and spices that are typically spicy, with strong references to pepper and sweet tobacco and red and violet jam. It has a good drinkability, has good...
Wine emblem of the territory where it is born and the maximum expression of its peculiarities, the Chianti Classico Reserve takes proudly on the label the name of the family. 90% of Sangiovese combines 10% Cabernet...