Serrocielo is the best expression of Falanghina dei Feudi di San Gregorio. The wine is pale yellow with bright green hues. Nette are the feelings of small white flowers and fruit. The palate is fresh and soft. And 'it recommended to accompany the classic seafood dishes.
Delivery within 24 working hours
Aggiungi alla lista dei desideri
Scheda tecnica
Product

Serrocielo
Classification

Falanghina Sannio DOC
Denomination

DOC
Vintage

2016
Tipology

Vino bianco
Provenance

Italia
Production area

Campania
Grape variety

Falanghina
Fermentation

About 5-6 months in steel with stay on its lees and repeated batonnage to put in suspension the fine lees
Alcohol

13,00% vol.
Recommended glass

Chalice opening media
Serving temperature

8-10 °C
Pairings

Recommended to accompany the classic seafood dishes: sautéed clams, shrimp salad, stuffed mussels, spaghetti with shellfish
Bottle

0,75 l.
Color

Pale straw yellow with bright green reflections
Perfume

Nette are the feelings of small white flowers and fruit
Flavor

Fresh and soft
HISTORY
One of Feudi di San Gregorio's most important visions is to believe that the birth of a wine has the same creative process as a work of art. Love and passion in caring for plants, commitment to harvesting grapes and patience while waiting for mature wine, make every bottle express its personality and become a work of art. with this approach the collaborations with great masters and talented youngsters are born, aimed at continuing and increasing the will of a continuous exchange of knowledge and creativity between wine and art. The same feelings and emotions lead the creative path of a artist, which leads him to create a sculpture, a photograph, a painting, an installation.
CELLAR
Feudi di San Gregorio is today the symbol of the enological renaissance of southern Italy and of a culture of drinking aimed at rediscovering the identity of Mediterranean flavors. Valuing the vines of Southern Italy such as Aglianico, Fiano di Avellino and Greco di Tufo, investing in the land and in the centuries-old tradition of Irpinia viticulture, restoring a future to a unique environmental heritage. Climb the hill towards Sorbo Serpico, enter a magical world, between unexpected water places, spice gardens and blooming roses. However, the biggest surprise is inside the cellar: the long barrel cellar that houses red wines. The intent is to go beyond the concept of wine cellar, making it become a forum, a place for meeting, for comparison, for knowledge, for meditation, a laboratory of ideas and culture, a place of welcome and refreshment. The project was attended by world-class professionals: the Japanese architect Hikaru Mori had the difficult task of giving architectural unity to the pre-existing structures, developed over time. Massimo and Lella Vignelli, symbols of Italian design in the world and "authors" of the company's labels, have designed the furnishings and interiors.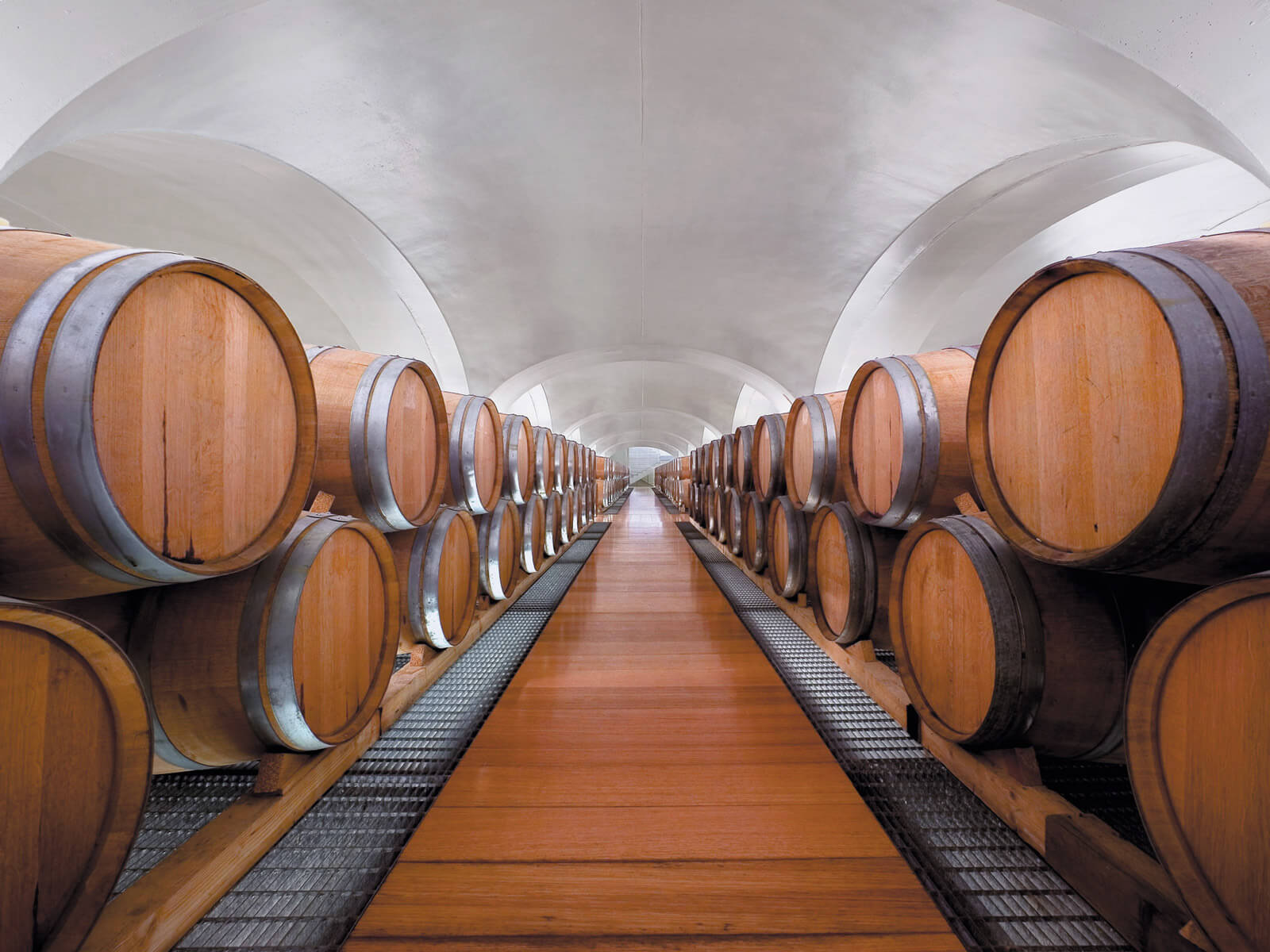 Guarda altri 16 prodotti nella stessa categoria:
Biancolella Tenuta Frassitelli of Casa d'Ambra, is of gold color and intense, delicate, persistent flavor. On the nose scents of broom, herbs, plum, honey millefiori join with net salgem notes. Sole full and intruded...
The Greco di Tufo of Cantine di Marzo is a typical wine of the Tufo lands; it is born in fact in the vines exposed to the South-West in the regions of San Paolo and Santa Lucia, at an altitude between 350 m. and the...
Vite Maritata, the company Borboni, is born in vineyards located in Agrigento Aversano and Giugliano in Campania. It is produced entirely with Asprinio grapes. It has a golden yellow color and its nose opens with a...
Vineyard of the Lume is produced to the east of Ischia Island, 100 meters from the sea level, in the Punta del Lume resort, which is called "o 'lummo". It has a pale yellow color, a floral aroma and almost ripe fruit,...
Selection of grapes from a single vineyard site in Mirabella Eclano; is a unique wine, the result of a careful vineyard sealing study of the estate and at the same time represents a new prospect of expression of the...
Pietracalda is a selection of the best grapes of Fiano, who come from many small vineyards of Irpinia. It has decided straw yellow. The perfume ranges from fresh chamomile flowers, peach, candied citron. On the palate...
Vulgar Vineyard is bright yellow, chamomile and thyme scent, harmonious and vibrant flavor. It is a wine produced exclusively from farmed grapes grown with organic farming.
Falanghina found in the area of Sannio an ideal place to express its many facets. It is a fresh, luminous wine with a strong gastronomic vocation and perfect to accompany a lunch between friends in the sun of spring....
Vandari Falanghina of Antica Masseria Venditti produced in Sannio Benevento. It has a straw-yellow color, has a dry and well-balanced acid taste. The glasses are endowed with great strength thanks to the mineral notes...
Tresinus, from selected Fiano grapes, is produced by the San Giovanni Agricultural Company, a project by Mario Corrado and Ida Budetta. The company, born in 1993, has developed in full respect of the unspoiled nature...
Kalimera by Cenatiempo is a 100% Biancolella DOC produced on the island of Ischia. It has a straw-yellow color and the aroma is fruity and aromatic. The taste is fresh, savory, excellent to combine with first courses...
Col termine di simbiosi (dal greco sin e bios, cioè vita insieme) si indica la relazione che si instaura tra due individui di specie differenti, tesa ad un beneficio reciproco o di uno almeno dei partner, senza che...
Pietracupa's Tufo Greco manages to combine all the components with a mineral component. It is a unique and unmistakable white wine, defined and long-lasting for a bottle that makes longevity its most sincere...
The great classic of Irpinia, a designation that is living a second youth thanks to a refinement and a unique complexity. Traits, these, which require the Fiano di Avellino of the most important Italian white wines...
I clienti che hanno acquistato questo prodotto hanno comprato anche:
The Greco di Tufo, made entirely from grapes Greek, born in the vineyards located in the town of Sorbo Serpico, in 'lovely scenery of Irpinia. Thanks to the minerals and the soil characteristics, is able to express...
Chardonnay, white grape variety spread everywhere, found a land of choice in Termeno. It 'a very popular and requested wine, greenish yellow. The soothing scent before taste tickles the senses of those who approach...
The Barbazzale White is a wine of exceptional quality from Cottanera. Wine is the son of a mountain environment characterized by minerality offer from the territory of the Etna volcano. Also in this area is a high...
The Directory , Aglianico del Vulture D.O.C. , Made from grapes harvested in the second half of October and fermented with maceration of about 15 days . Matures in French oak barrels of second and third step , in the...
"Theodosius" is named after a Byzantine emperor, a Basileus, whose effigy, which dates back to a 5th century coin, became the symbol of the company. Ruby red wine with violet tendency. Fruits of precious species of...