In the heart of Taurasi was born Serpico, an extraordinary Aglianico coming from vines over one hundred fifty years. A wine that with a depth, elegance, territorial grip out of the ordinary. The wine has great complexity on the nose, with red sweet spices, that alternate with notes of licorice, cocoa and coffee.
Delivery within 24 working hours
Aggiungi alla lista dei desideri
Scheda tecnica
Product

Serpico
Classification

Irpinia Aglianico DOC
Denomination

DOC
Vintage

2012
Tipology

Vino rosso
Provenance

Italia
Production area

Campania
Production area (municipality)

Sorbo Serpico
Grape variety

100% Aglianico
Vineyards

Historic vineyard "From the King"
Manufacture

Minimum Aging 18 months in French oak barrels and barrels of 50 hl of medium roast
Fermentation

Fermentation and maceration in stainless steel tanks for about 3-4 weeks
Aging of wine

12 months in bottle
Alcohol

14,50% vol.
Serving temperature

18-20 °C
Pairings

Excellent with red meats, poultry, game and aged cheeses
Bottle

0,75 l.
Color

Ruby red
Perfume

Complex bouquet of cherry jam, sweet spices, licorice, coffee and cocoa
Flavor

Balanced in the mouth. Marked minerality and great persistence
HISTORY
One of Feudi di San Gregorio's most important visions is to believe that the birth of a wine has the same creative process as a work of art. Love and passion in caring for plants, commitment to harvesting grapes and patience while waiting for mature wine, make every bottle express its personality and become a work of art. with this approach the collaborations with great masters and talented youngsters are born, aimed at continuing and increasing the will of a continuous exchange of knowledge and creativity between wine and art. The same feelings and emotions lead the creative path of a artist, which leads him to create a sculpture, a photograph, a painting, an installation.
CELLAR
Feudi di San Gregorio is today the symbol of the enological renaissance of southern Italy and of a culture of drinking aimed at rediscovering the identity of Mediterranean flavors. Valuing the vines of Southern Italy such as Aglianico, Fiano di Avellino and Greco di Tufo, investing in the land and in the centuries-old tradition of Irpinia viticulture, restoring a future to a unique environmental heritage. Climb the hill towards Sorbo Serpico, enter a magical world, between unexpected water places, spice gardens and blooming roses. However, the biggest surprise is inside the cellar: the long barrel cellar that houses red wines. The intent is to go beyond the concept of wine cellar, making it become a forum, a place for meeting, for comparison, for knowledge, for meditation, a laboratory of ideas and culture, a place of welcome and refreshment. The project was attended by world-class professionals: the Japanese architect Hikaru Mori had the difficult task of giving architectural unity to the pre-existing structures, developed over time. Massimo and Lella Vignelli, symbols of Italian design in the world and "authors" of the company's labels, have designed the furnishings and interiors.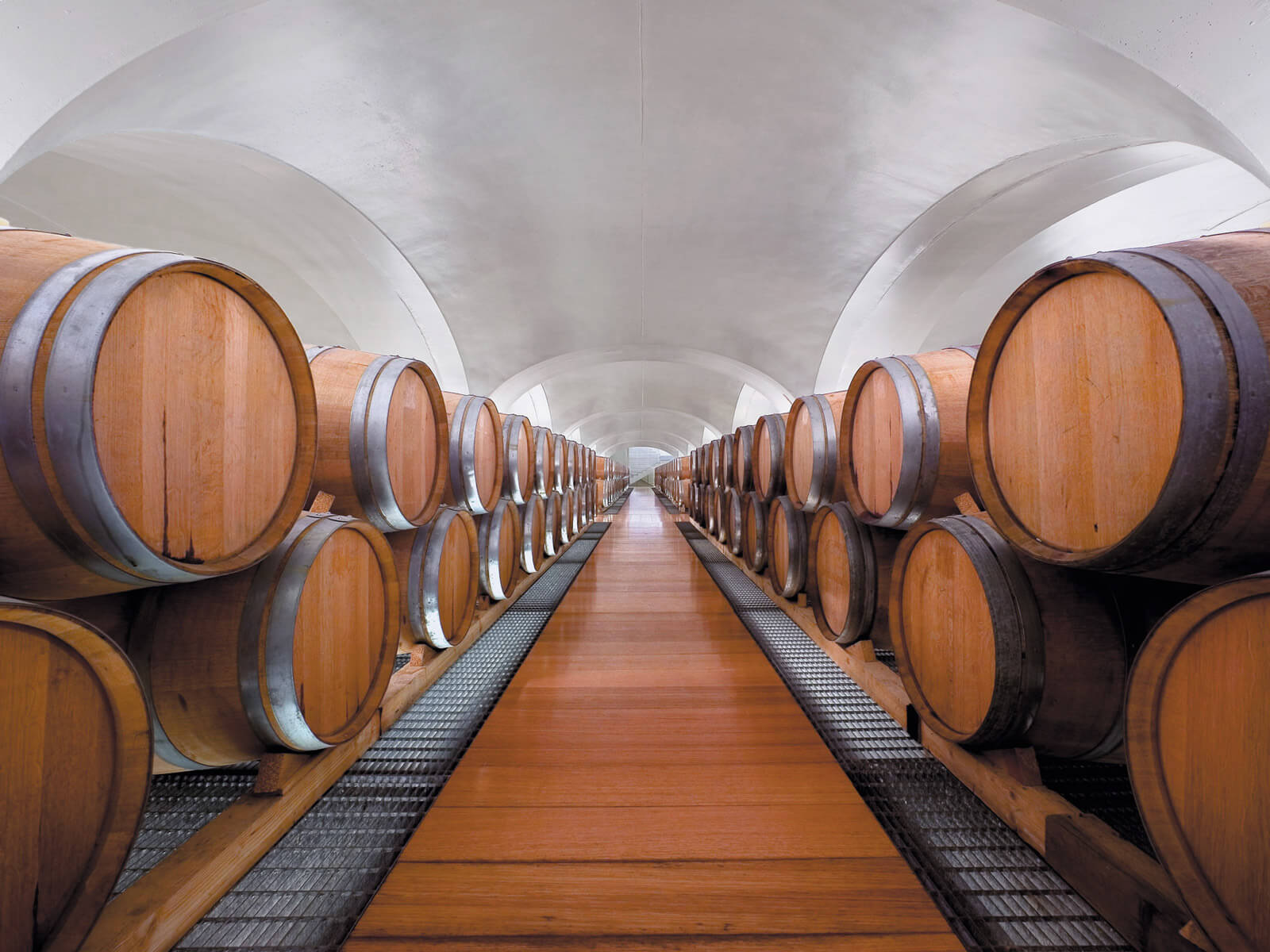 Guarda altri 16 prodotti nella stessa categoria:
Terra di Rivolta is an organic Aglianico wine produced on the slopes of Taburno in Benevento from Fattoria la Rivolta which, as a great admirer of the cultivated mineral lands, has decided to bottle all the...
Taurasi by Cantine Antonio Caggiano is a 100% DOCG Aglianico di Taurasi. It has a deep ruby red color, has an intense olfactory bouquet composed mainly of dark fruit tones, licorice and hints of minerals. The taste is...
Agliano del Taburno of Fattoria la Rivolta is a biologic wine strongly linked to the territory of which it incorporates all its magic. The wine presents in a ruby red color, has complex aromas and a dense tannins.
Piedirosso by Cantine Farro is a red wine produced in the Campi Flegrei in Campania. It is a 100% piedirosso; on the nose it recalls hints of cherry, raspberry and rose; on the palate it is soft, full-bodied and with...
Carrese reserve of Cantine di Solopaca is an aglianico sannio produced in the Benevento area. It has an intense ruby red color and a pleasantly tannic but medium body taste. Aged in barriques for an average period of...
Aglianico is an IGT red wine produced by Terredora in Campania. It is a medium-bodied, balanced wine, excellent to combine with Mediterranean dishes and important pastas
Aglianico Sannio is obtained exclusively from grapes of the homonymous vine harvested in the second decade of October when they have reached the peak of the polyphenolic maturation. Carefully selected the grapes are...
D'Erasmo Riserva is an Aglianico del Taburno DOCG produced by Nifo Sarrapochiello in Campania. It has an intense ruby red color and its scents remind dry plum, cherry and blackberry. It has a thick flavor, with soft...
Trigaio is a wine in which enhance and balance the characteristics of the vines in youth. And 'an extemporaneous and exuberant Aglianico. It is ruby red and the nose expresses its freshness and youth. It has a...
Malambruno, produced by the company Amarano, has a ruby red color and an intense and spicy scent that can evolve over time into various olfactory sensations. The taste is fresh and structured, which make it a very...
The Tauri is obtained from the vinification of Aglianico grapes grown exclusively from estate vineyards located in Taurasi. It 'a wine with a beautiful ruby red color, with a bouquet reminiscent of violets and small...
Puro Sangue by Luigi Tecce is a Taurasi Riserva DOCG produced by a vineyard of Aglianico cultivated in the municipality of Paternopoli. It has an intense ruby red color; the nose is sharp, with hints of warm...
The name comes from a legend: Lucifero, chased by the Heaven, brought with himself an edge of it, he deposed it in the Naple Gulf. God, aching to have lost a so beautiful part of heaven, began to cry, and there where...
Per e Palummo of the woman, Antonio Mazzella shows an intense ruby red color. It has a scent of violet and a dry taste, tannic right. It is great to combine bunnies with bunnies, game, and cheeses.
I clienti che hanno acquistato questo prodotto hanno comprato anche:
Dazzling, velvety and chameleon is the Fiano D.O.C.G. of Contrada wine cellar produced exclusively in the area of origin. A bright wine, carious character, draws with its rich bouquet: white peach and citrus fruit,...
Vigna Astroni of Cantina Astroni is a Falanghina PDO produced on the outer slopes of the Astroni Crater in the Campi Flegrei area; the grapes come from a single 1.5 hectare terraced vineyard in biological conversion....
The Mastroberardino Radici Taurasi is an exemplary expression of the grape of Taurasi Aglianico Irpinia area. This wine represents and symbolizes international history and culture of the viticulture of the area....
The encounter in 2002 with Anselme Selosse, great master of Champagne, born Dubl. An ambitious and simple project at the same time: use the native grapes Falanghina, Aglianico and Greek to produce a Spumante Metodo...
Ornellaia is a Tuscan DOC cuvée, produced in the homonymous estate of Ornellaia to which a particular care and passion is dedicated. It has an intense ruby red color; on the nose you can perceive spicy notes and hints...
CRUna deLago is the result of a scrupulous selection of vineyards of the best bunches. Its bouquet initially gives mineral notes, typical of the effusive rocks that relate to the recent volcanic activity, then comes...