The Rubrato Aglianico of Feudi di San Gregorio was born in vineyards located in the heart of the unique scenery of Irpinia. It is produced with Aglianico grapes. It has an intense ruby red color and clear. The nose recalls the wild black fruit, licorice and undergrowth. The palate is soft and balanced.
Delivery within 24 working hours
Aggiungi alla lista dei desideri
Scheda tecnica
Product

Rubrato
Classification

Irpinia Aglianico DOC
Denomination

DOC
Vintage

2016
Tipology

Vino rosso
Provenance

Italia
Production area

Campania
Production area (municipality)

Sorbo Serpico (AV)
Grape variety

Aglianico
Manufacture

Maturation of about 8-10 months in steel tanks
Aging of wine

6 months in bottle
Alcohol

13,50% vol.
Gambero Rosso

3 glasses
Serving temperature

16-18 °C
Pairings

Perfect with roasted red and white meat, a eggplant parmigiana and a rice sartù
Bottle

0,75 l.
Color

Ruby red and clear
Perfume

Recall the wild black fruit, licorice and underbrush
Flavor

Balanced with a finish reminiscent of fresh fruit and ends with a delicate balsamic note
HISTORY
One of Feudi di San Gregorio's most important visions is to believe that the birth of a wine has the same creative process as a work of art. Love and passion in caring for plants, commitment to harvesting grapes and patience while waiting for mature wine, make every bottle express its personality and become a work of art. with this approach the collaborations with great masters and talented youngsters are born, aimed at continuing and increasing the will of a continuous exchange of knowledge and creativity between wine and art. The same feelings and emotions lead the creative path of a artist, which leads him to create a sculpture, a photograph, a painting, an installation.
CELLAR
Feudi di San Gregorio is today the symbol of the enological renaissance of southern Italy and of a culture of drinking aimed at rediscovering the identity of Mediterranean flavors. Valuing the vines of Southern Italy such as Aglianico, Fiano di Avellino and Greco di Tufo, investing in the land and in the centuries-old tradition of Irpinia viticulture, restoring a future to a unique environmental heritage. Climb the hill towards Sorbo Serpico, enter a magical world, between unexpected water places, spice gardens and blooming roses. However, the biggest surprise is inside the cellar: the long barrel cellar that houses red wines. The intent is to go beyond the concept of wine cellar, making it become a forum, a place for meeting, for comparison, for knowledge, for meditation, a laboratory of ideas and culture, a place of welcome and refreshment. The project was attended by world-class professionals: the Japanese architect Hikaru Mori had the difficult task of giving architectural unity to the pre-existing structures, developed over time. Massimo and Lella Vignelli, symbols of Italian design in the world and "authors" of the company's labels, have designed the furnishings and interiors.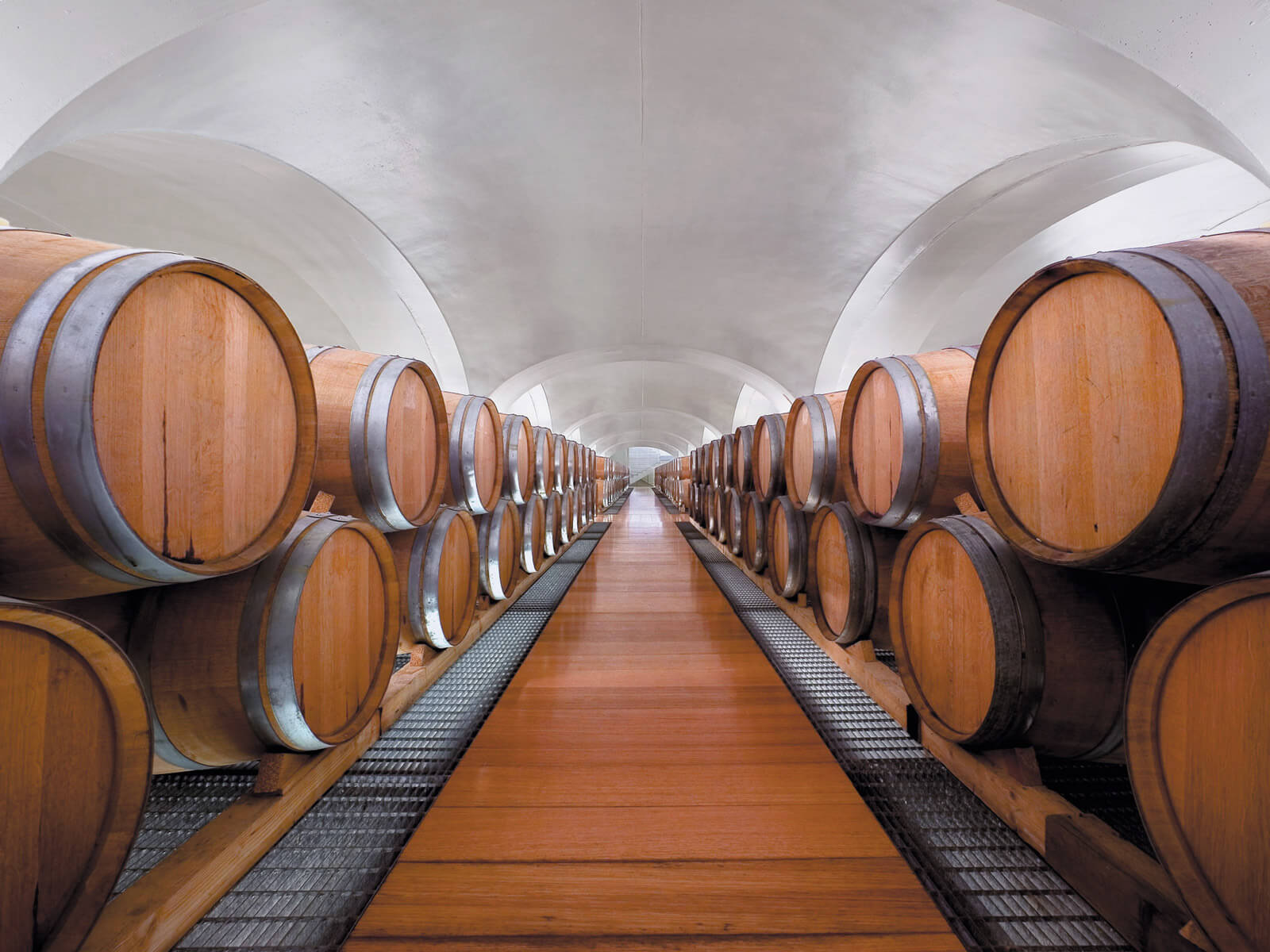 Guarda altri 16 prodotti nella stessa categoria:
Divonero by La Masseria di Maria is a PDO Barbera produced in Sannio. It is a soft and decisive wine at the same time, with a remarkable body; at first glance a woody taste is perceived which will then leave room for...
Janare Guardiolo, produced with Aglianico grapes, in Sannio Beneventano, Campania, is an intense color wine with violet shades. The smell of cherry blends together with the vanilla leaves from the barrel passage. The...
Puro Sangue by Luigi Tecce is a Taurasi Riserva DOCG produced by a vineyard of Aglianico cultivated in the municipality of Paternopoli. It has an intense ruby red color; the nose is sharp, with hints of warm...
Vine whose presence in Sannio has been witnessed for at least two centuries. It has been well adapted to this setting, producing an absolutely unique wine and a high level of enjoyment. From purple color, it has in...
Among centenary vineyards in Irpinia, Feudi di San Gregorio rediscovers an ancient vineyard. The genetic analysis shows strong ties with Aglianico, Syrah, Refoscolo and gives birth to a wine with a great...
Kleos is an aglianico produced by Luigi Maffini in the municipality of Castellabate. It has a ruby red color with violet reflections. The nose opens with aromas of ripe red fruit and on the palate it is pleasantly...
Carrese reserve of Cantine di Solopaca is an aglianico sannio produced in the Benevento area. It has an intense ruby red color and a pleasantly tannic but medium body taste. Aged in barriques for an average period of...
Agliano del Taburno of Fattoria la Rivolta is a biologic wine strongly linked to the territory of which it incorporates all its magic. The wine presents in a ruby red color, has complex aromas and a dense tannins.
Rocca dei Leoni is an IGT Aglianico produced by Villa Matilde in Campania. It has an intense red color and a characteristic, elegant fragrance. Its taste is warm, velvety with balanced tannins
The Piedirosso by Fedriciane Cellars is intense ruby red color, tending to garnet with aging; bouquet with intense and characteristic aroma and a dry, harmonious flavor with marasca flavor.
Falerno del Massico Etichetta Bronzo is a DOC red wine produced by Masseria Felicia in Campania. It is a type of wine also famous in literature, even quoted by Virgil: "Therefore, do not compete with the Falerno." It...
I clienti che hanno acquistato questo prodotto hanno comprato anche:
Lugana by Famiglia Olivini is a Trebbiano DOC obtained exclusively from grapes of the typical indigenous variety carefully selected from the best grapes of the vineyards cultivated on the property, located in one of...
Il Principio is intense ruby color, with fruity scents with varietal notes of black cherry, blackberry and plum, spicy and toasted hints. Stylish and soft, it has amazing length with pleasant notes of ripe red fruits....
Katà Pompeiano is a white wine from Somma Coins IGT produced by Cantine Olivella in Campania. It has a straw yellow color reflected, the scent is fruity and floral. The taste is warm, sapid and pleasantly mineral
Primo Scuro enhances the vine that expresses the strong character of Sardinia. A decisive wine, the fruit of a land and a culture to be savored in an ancient night between burning embers and tasty meats. With an...
Da
€29.60
(Iva inc.)
€35.10
From the dried grapes used for the production of Amarone, shortly after fermentation, the best selection of Valpolicella is "re-done", to begin the second fermentation that enriches the alcohol content, color,...