The Privilege is a great passionate with the intense bouquet. It is a sweet wine produced with Fiano grapes, an ancient vine cultivated in the Avellino area. It is golden yellow; The nose is intense with soft apricot sensations and white flowers. In the mouth, the silkiness and softness of the vine are enriched by a remarkable acid and mineral shoulder.
Delivery within 24 working hours
Aggiungi alla lista dei desideri
Scheda tecnica
Product

Privilegio
Classification

Irpinia Fiano Passito DOC
Denomination

DOC
Vintage

2014
Tipology

Sweet wine
Production area (municipality)

Sorbo Serpico
Grape variety

100% Fiano
Type of soil

Soils of solitary hilly slopes, on arsenic marnose rocks, with smooth, weaved texture, moderately deep, well ventilated, limestone
Type of harvest

Manual selection of clusters
Harvest Time

First and second decades of November
Manufacture

Maturation in barriques for 6-8 months
Aging of wine

12 months in bottle before marketing
Alcohol

12,00% vol.
Serving temperature

8-10 °C
Pairings

Perfect for accompanying confectionery products, especially sweets with excellent creams even with seasoned cheeses and herbs
Bottle

0,75 l.
Color

Crystalline golden yellow
Perfume

There are obvious soft feelings of dried apricot and small white flowers
Flavor

The silk and softness of the vine is enriched by a remarkable acid and mineral shoulder. The finish is long and resembles candied citrus, cinnamon and white peel
HISTORY
One of Feudi di San Gregorio's most important visions is to believe that the birth of a wine has the same creative process as a work of art. Love and passion in caring for plants, commitment to harvesting grapes and patience while waiting for mature wine, make every bottle express its personality and become a work of art. with this approach the collaborations with great masters and talented youngsters are born, aimed at continuing and increasing the will of a continuous exchange of knowledge and creativity between wine and art. The same feelings and emotions lead the creative path of a artist, which leads him to create a sculpture, a photograph, a painting, an installation.
CELLAR
Feudi di San Gregorio is today the symbol of the enological renaissance of southern Italy and of a culture of drinking aimed at rediscovering the identity of Mediterranean flavors. Valuing the vines of Southern Italy such as Aglianico, Fiano di Avellino and Greco di Tufo, investing in the land and in the centuries-old tradition of Irpinia viticulture, restoring a future to a unique environmental heritage. Climb the hill towards Sorbo Serpico, enter a magical world, between unexpected water places, spice gardens and blooming roses. However, the biggest surprise is inside the cellar: the long barrel cellar that houses red wines. The intent is to go beyond the concept of wine cellar, making it become a forum, a place for meeting, for comparison, for knowledge, for meditation, a laboratory of ideas and culture, a place of welcome and refreshment. The project was attended by world-class professionals: the Japanese architect Hikaru Mori had the difficult task of giving architectural unity to the pre-existing structures, developed over time. Massimo and Lella Vignelli, symbols of Italian design in the world and "authors" of the company's labels, have designed the furnishings and interiors.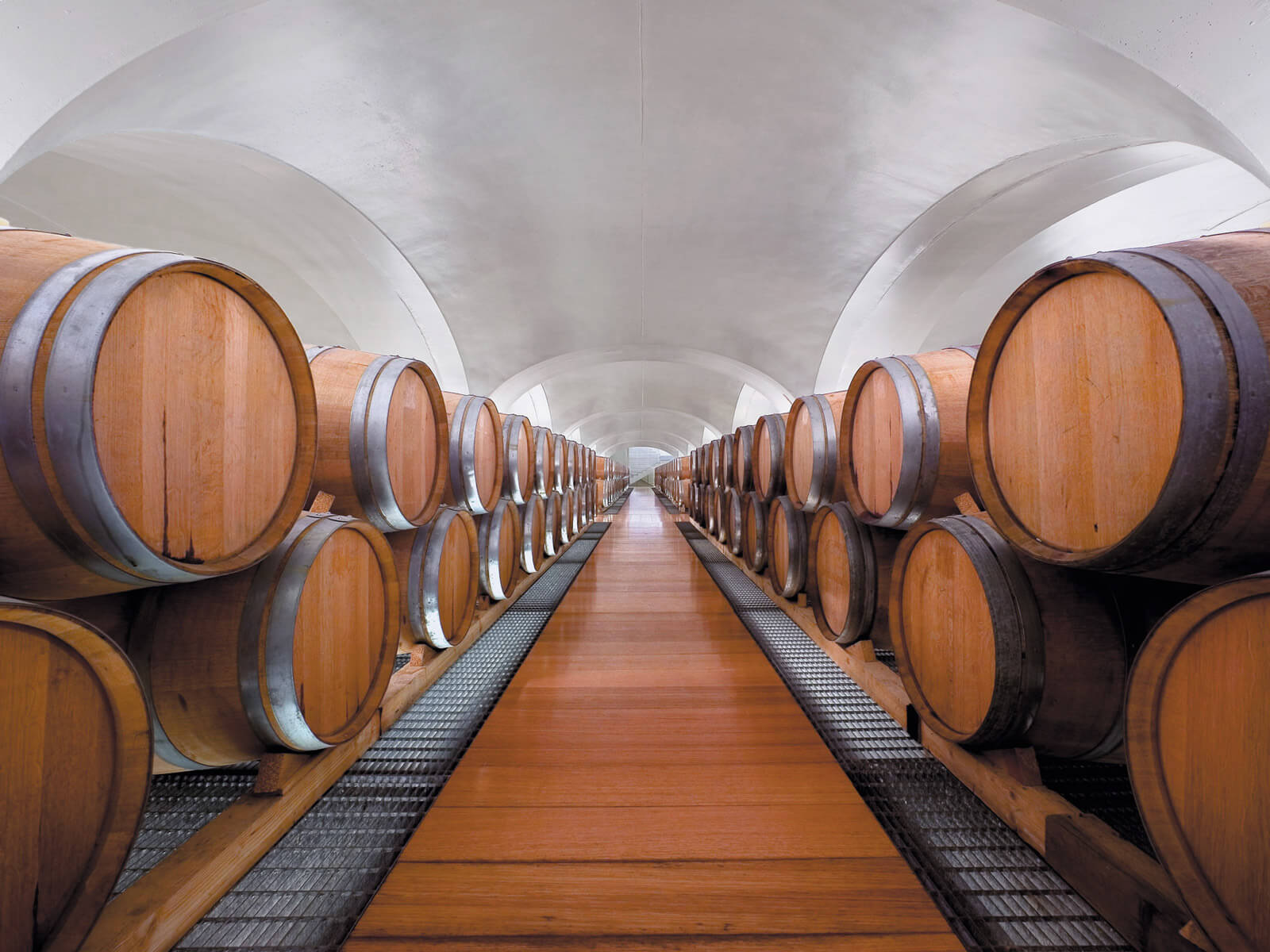 Guarda altri 16 prodotti nella stessa categoria:
Passito di Noto is a white DOC wine produced by Planeta in Sicily. Its soft taste and exceptional acidity makes it an excellent wine to pair with desserts, dried fruit and aged cheeses
Barolo Chinato has a garnet red color with orange lips. It offers an intense aromatic scent that recalls the oriental spices with which it is produced. It gives it a warm, full, sweet and aromatic taste. The...
Tanit, a wine produced with Moscato di Alessandria grapes, also called Zibibbo. Bright yellow gold reveals a large and humorous smell of candied orange, date and dried fig, sage and millefiori honey. Hot and soft on...
Madrigale, from the company Manduria's wine producers, shows an intense red color with purple reflections. It offers an intense and complex bouquet, reminiscent of marasca and other red fruits in jams. It has a sweet,...
Moscato is a sweet wine 100% Moscato di Alessandria (or Zibibbo) produced by Cantine Pellegrino in Sicily. It has a pale straw yellow color, the aroma is aromatic, intense and fruity. The full and harmonious flavor...
Ben Ryè è un Passito di Pantelleria DOC prodotto con uve Zibibbo da Donnafugata in Sicilia. Presenta profumi intensi ed ammalianti che aprono ad un assaggio complesso, lunghissimo e struggente. È perfetto da abbinare...
Passio di la Sibilla is a Passito di Falanghina produced in Campania. It has a golden yellow color that is not too heavy; its scent is Mediterranean, with persuasive references of dried fig and date. On the palate it...
An amber-colored Malvasia, rich in aromas and sublime intensity. A Malvasia that recalls a sunset by the sea, embellished by nocturnal aromas released little by little from the Mediterranean scrub
Aleatico is a red DOC wine produced by Antinori. It shows an intense smell of rose hips and ripe red fruit; its taste is enveloping and mellow
Elegant and balanced interpretation of Zibibbo that denotes a clean and balanced aromaticity. Beautiful aromas of melon and orange peel, rose and honey crown a gustatory impact of great satisfaction. it is moderately...
Yanir, of the company Miceli, is of yellowed copper with gold reflections. It offers a fruity bouquet, citrus, broad and slightly spicy. The palate is really good, complex, full, persistent but also fresh and velvety.
Muscat was already widespread among the Greeks and Romans, who appreciated its pleasant characteristics of excellent dessert wine. Michele Chiarlo's Nivole comes from the hills of the Canelli area, with...
Barolo Chinato is a sweet wine produced by Fontanafredda in Friuli. Its not too high alcohol content gives an exciting sweet-bitter balance to the product, making it round, velvety, extremely enjoyable despite its...
I clienti che hanno acquistato questo prodotto hanno comprato anche:
The fruit of a careful and continuous search for the discovery of the best vine-territory connotation, is born in Radici, in a conception in which the complexity of the characters is exalted by an unusual density for...
Passito di Noto is a white DOC wine produced by Planeta in Sicily. Its soft taste and exceptional acidity makes it an excellent wine to pair with desserts, dried fruit and aged cheeses
Gewustraminer is a white DOC wine produced by Elena Walch in Trentino Alto Adige. In the mouth releases all its finesse with a fresh body; It is excellent to use in summer evenings to accompany spicy dishes and dishes...
Belnero is the expression of the bond of Banfi with the terroir of Montalcino. It is produced with mainly Sangiovese grapes, assembled from time to time with those international vineyards that have now found their...
The Talò San Marzano Primitivo wines has been incredibly successful at the international level to the point of being recognized around the world for its unique taste, but also to the very prestigious Gambero Rosso...
The Ros'aura wine is one of the leading products of the Feudi di San Gregorio and composed entirely of Aglianico grapes. It 'a delicious rose wine, firm and dry with an intense pink crystal. The nose and palate gives...
In the volcanic lands of the Sorrento Peninsula, a noble and ancient Neapolitan wine is produced and produced with jealousy and mastery. Gragnano, an intense red wine, emits a red foam, almost as a reminder of...