The origin of the plant selection and the definition of "Primitive" is attributed to "Don Francesco Filippo Indelicati". Don Thomas Tafuri Schiavoni instead had the merit of introducing the plant in its natural habitat optimal, or in Puglia. From the vineyards to tree and from the highlands Primitivo born: a soft, warm wine, pleasantly fruity. The nose offers notes of cherry, strawberry, sweet spices and elegant typical of the variety. The palate is well balanced and mineral.
Delivery within 24 working hours
Aggiungi alla lista dei desideri
Scheda tecnica
Product

Primitivo
Classification

Primitivo of Manduria DOC
Denomination

DOC
Vintage

2016
Tipology

Vino rosso
Provenance

Italia
Production area

Puglia
Production area (municipality)

Manduria
Grape variety

Primitivo
Type of harvest

Manual
Fermentation

The fermentation takes place, with maceration, in steel tanks at a controlled temperature
Aging of wine

For 6-7 months in steel and 6 months in bottle
Alcohol

14,00% vol.
Serving temperature

18 °C
Pairings

Ideal with grilled red and white meats, roasts and seasoned cheeses
Bottle

0,75 l.
Color

Intense ruby red
Perfume

Give notes of cherry, strawberry, sweet and elegant spices
Flavor

The mineral body is balanced with soft tannins. The final calls hot notes of fruit and cinnamon
HISTORY
One of Feudi di San Gregorio's most important visions is to believe that the birth of a wine has the same creative process as a work of art. Love and passion in caring for plants, commitment to harvesting grapes and patience while waiting for mature wine, make every bottle express its personality and become a work of art. with this approach the collaborations with great masters and talented youngsters are born, aimed at continuing and increasing the will of a continuous exchange of knowledge and creativity between wine and art. The same feelings and emotions lead the creative path of a artist, which leads him to create a sculpture, a photograph, a painting, an installation.
CELLAR
Feudi di San Gregorio is today the symbol of the enological renaissance of southern Italy and of a culture of drinking aimed at rediscovering the identity of Mediterranean flavors. Valuing the vines of Southern Italy such as Aglianico, Fiano di Avellino and Greco di Tufo, investing in the land and in the centuries-old tradition of Irpinia viticulture, restoring a future to a unique environmental heritage. Climb the hill towards Sorbo Serpico, enter a magical world, between unexpected water places, spice gardens and blooming roses. However, the biggest surprise is inside the cellar: the long barrel cellar that houses red wines. The intent is to go beyond the concept of wine cellar, making it become a forum, a place for meeting, for comparison, for knowledge, for meditation, a laboratory of ideas and culture, a place of welcome and refreshment. The project was attended by world-class professionals: the Japanese architect Hikaru Mori had the difficult task of giving architectural unity to the pre-existing structures, developed over time. Massimo and Lella Vignelli, symbols of Italian design in the world and "authors" of the company's labels, have designed the furnishings and interiors.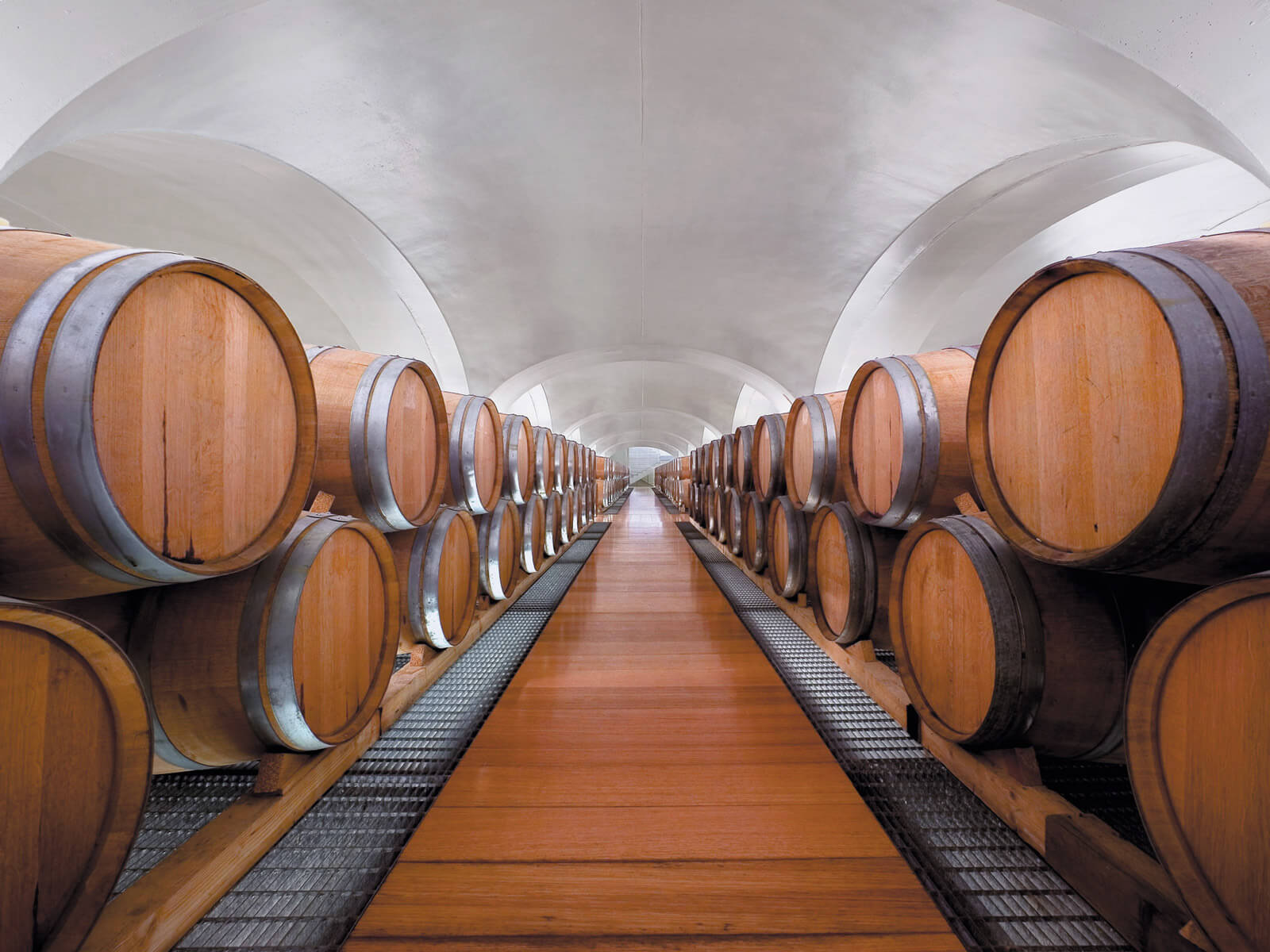 Guarda altri 16 prodotti nella stessa categoria:
Sine Nomine is a Torrevento DOC reserve. Produced by grapes of Negroamaro and Malvasia black cultivated with the Apulian sapling system, in the area of Salice Salentino. It is an elegant red, excellent expression of...
The cultivation of Primitivo in Puglia is perhaps attributable to the Phoenician colonization or the subsequent Hellenic. Whatever the origin, the vine has been in the area for a long time, being present in the old...
The coast south of Taranto is famous for its beaches and sandy shores that slip into the Ionian Sea by towering ancient dunes. Behind these were cultivated vineyards of the primitive bush-trained, often on own roots,...
Nero by Conti Zecca is an IGT red wine produced in Puglia. It has an intense ruby red color and its olfactory bouquet is sweet, with hints of small red fruits and vanilla. The taste is soft and well structured; the...
A careful selection of Negroamaro bunches and their drying on the gratings helped create this particular wine, produced in limited quantities. Scurry is bright red garnet color, and has a rich and very complex...
After 12 months of refining in French oak barriques, on the olfactory floor, it is a complex and refined composition, maintaining the organoleptic heritage of native grapes. It is accompanied with roast roasts, game...
Talò, produced with Negroamaro grapes in San Marzano, Puglia, is purple red with purple reflections. It is characterized by an intense and persistent scent, spicy, with balsamic notes and vanilla notes. Bodywash,...
Bottaccia, of the Torre Quarto company, is obtained from the purity of Troy Grape, a grape imported from Puglia by the Greeks. The production area is located in the vicinity of Cerignola. The color is ruby red with...
Del Susumaniello, an extinct Apulian variety, had remained only in ancient texts dating back to the Kingdom of the Two Sicilies. After years of research we found an old vineyard in Torre Guaceto from which the Sum was...
LIRICA is a Primitive produced in the Manduria area. The wine is ruby red with garnet nuances, the scent is intense and complex, with ripe reddish fruits, in a balanced blend with hints of roasted wood. On the palate...
Bolonero di Torrevento is a ruby-colored wine, full and fragrant bouquet and a pleasant taste. It is ideal for approaching red meats, roasts, game and seasoned cheeses. In summary, a really great wine at an...
Felon is the name of the legendary King of Felline, a pre-Christian city that once stood near Manduria and mysteriously died out during the Middle Ages. The wine has body and personality gifts, with rich notes of...
The depth of ruby red color and the porpoise nail characterize this intense wine with spicy notes and delicate vanilla flavor. The large structure and the full and velvety taste make it remarkable breed.
I clienti che hanno acquistato questo prodotto hanno comprato anche:
Cuvèe dominated by Sangiovese, which also includes Alicante and Malvasia Nera, Morellino di Scansano is a young, fruity red wine. The first harvest of Elizabeth of 1985 and since then Morellino has always accompanied...
Wine emblem of the territory where it is born and the maximum expression of its peculiarities, the Chianti Classico Reserve takes proudly on the label the name of the family. 90% of Sangiovese combines 10% Cabernet...
Born in Pisticci in 1894 from a secret recipe of Cav. Pasquale Vena that is handed down from generation to generation. Thanks to the skillful blending of more than 30 herbs has a strong taste, perfect for all...
Dolcetto d'Alba is a DOC red wine produced by Elio Grasso in Piedmont. Scent of fragrant fragrant aromas and berries; the taste is fresh and vinous.
The Morellino di Scansano Hermitage Castle is a wine characterized by its exceptional combination of altitude, exposure, rich volcanic soil and proximity to the river Albengna. All this creates a truly exceptional...
It is a ruby red wine with violet reflections. The bouquet is vinous, fruity, very intense, very pleasant and very persistent. The taste is pleasantly dry, of good fabric, harmonious and velvety, with a distinct...
In the volcanic lands of the Sorrento Peninsula, a noble and ancient Neapolitan wine is produced and produced with jealousy and mastery. Gragnano, an intense red wine, emits a red foam, almost as a reminder of...