Pietraincatenata by Luigi Maffini is a fiano produced in Castellabate (SA), on the hills overlooking the Tyrrhenian Sea. The grapes are harvested by hand between the end of September and the middle of October, are subjected to a soft pressing process and then refined in barriques for 18 months. The wine shows a golden yellow color; the nose immediately reveals the smell of exotic and candied fruit and the palate is dense and soft, with a long finish.
Delivery within 24 working hours
Aggiungi alla lista dei desideri
Scheda tecnica
Product

Pietraincatenata
Classification

Fiano
Denomination

DOC
Vintage

2017
Tipology

Vino bianco
Provenance

Italia
Production area

Campania
System of cultivation

Espalier with Guyot pruning
Plant density

4000 plants per hectare
Harvest Time

Second ten days of September and first ten days of October
Winemaking

Soft pressing of the grapes followed by fermentation at controlled temperatures in new barrels
Aging of wine

In barriques for about 8 months
Alcohol

13,50% vol.
Bottle

0,75 l.
Color

Golden yellow
Perfume

Complex of exotic fruit, candied fruit, dried apricots
Flavor

Soft, dense Long finish with elegant notes of toasted almonds, mint, wildflowers
HISTORY
Luigi Maffini's goal has always been to be able to "shape the earth to be able to taste it" and we can confirm with absolute certainty that he has succeeded very well. Since 1996, the year in which his winery was founded, with constant passion and dedication, Luigi has followed the care of his vineyards from which, with rigorous vinification, he creates wines that have a modern imprint, but that do not betray their deep and essential bond at all with the earth. Flanked by his friend Luigi Moio, his range of Aglianico and Fiano managed to find a way to channel the innate generosity of this area of ​​Campania, with well-balanced and harmonic labels. Not many are the years that see him engaged in the work of winegrower, but the successes obtained immediately with his labels have led him to restructure the company founded by his father in the 70s. Today the area under vines is made up of 4 hectares of property, almost entirely replanted, using historic vines such as Aglianico and Fiano, and 2 hectares of Piedirosso and Sangiovese in rented condition. It is precisely the territoriality of Luigi Maffini's wines that makes the winery a must if you want to know and fully understand the soul and flavors of the Cilento terroir: wines that can amaze and fascinate.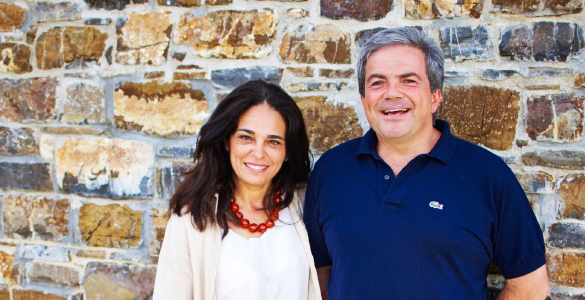 Guarda altri 16 prodotti nella stessa categoria:
Fiano di Avellino by Ciro Picariello is an exceptional wine yellow straw color, fruity aroma and elegant and fresh flavor. It has always been considered "the master of the Fiano di Avellino" and has always proved the...
Caiati is a spicy wine, with hints of white almonds, beeswax and undergrowth notes. It is odorately fruity with carambola and melon and has grapefruit notes on the long end.
Albente by Feudi di San Gregorio is a white wine produced from the best Falanghina grapes. Straw-yellow in color, it has a clean and clean bouquet of white fruits and flowers. In the mouth it expresses fresh and soft....
The fruit of a careful and continuous search for the discovery of the best vine-territory connotation, is born in Radici, in a conception in which the complexity of the characters is exalted by an unusual density for...
The Greek of Tufo Fonzone was born from a vineyard planted in 1994 in Santa Paolina. Microclimate, sandy and sandy soils and low yields give exclusive grapes to grapes which, when harvested, have a characteristic...
Summa by Cantine Federiciane is a dry still white wSumma di Cantine Federiciane is a dry still white wine produced in the Neapolitan area. It is a wine produced only with native grapes.ine produced in the Neapolitan...
A great classic of Irpinia, a designation that is living a second youth thanks to a personality and a unique character. Traits, these, that impose the Greek di Tufo among the most important Italian white wines not...
Sintonia, the olfactory iridescence of the grape, the aromatic triumph of its true and spicy nature. The union between the minerality and the sapidity of the Greek and the aroma of the Fiano creates an original flavor...
The Ariella, produced with Greco di Tufo, features the reddish, creamy and polished minerals at the same time. It is a wine characterized by its distinctive character and its aromatic and unmistakable character.
Caracci is a 100% Falanghina (Falerna biotype) DOC produced in Campania by Villa Matilde. It is represented by a very strong and characteristic smell, its taste is soft, elegant and excellent body and character
Greek word that means 'good drink': in addition to keeping alive the relationship with the ancient Greek tradition, remember how even the wisdom in drinking is a form of civilization. With this new Forastera, vinified...
I clienti che hanno acquistato questo prodotto hanno comprato anche:
Capo Martino takes its name from the hill purchased in 1991 in the heart of Collio. Praise between Tocai F., Ribolla Gialla, Malvasia and Picolit. Of a beautiful golden yellow color, glittering; Intense and complex...
Montepulciano Marina Cvetic is the diamond's point of the line. Produced since 1997, this wine includes an assembly of pure Montepulciano grapes, coming from several vineyards located all in the commune of San Martino...
Eisacktaler is a 100% Muller Thurgau produced by Cantina Produttori Bolzano. It has a greenish yellow color, its scent is aromatic. The taste is fresh and elegant
Taurasi Upper Valley comes from a careful selection of grapes Aglianico grown to about 700 meters above sea level in the municipality of Castelfranci. Weather conditions and the careful processing of the grapes make...
Amalfi Coast is a Fiorduva white wine produced by Marisa Cuomo in the Amalfi peninsula. It shows a light golden yellow color; on the nose there is an intense bouquet of yellow fruit and flowers. The taste is rich,...
Fiano of Avellino by Pietracupa, confirms his vocation to excellence. Long, bright, is wine that is impossible to resist. An olfactory profile crossed by a decidedly minerality that is a prelude to a fresh, fulfilling...
The encounter in 2002 with Anselme Selosse, great master of Champagne, born Dubl. An ambitious and simple project at the same time: use the native grapes Falanghina, Aglianico and Greek to produce a Spumante Metodo...
Fierce, majestic, complex, exuberant: it is the kind giant of Masi. It is a reference point for the Amaroni category, which together with Barolo and Brunello represents the aristocracy of Italian reds. It is the...