The 100% Nebbiolo grape from which this Marghe comes comes from the rich limestone-clayey land of the towns of Barolo and Grinzane Cavour, pondering the Piedmont landscape that surrounds it from 30 to 50 years. These are the fundamental characteristics that give it a ruby red color with light garnet reflexes, a delicate and distinctive scent with purple and red fruit memories and finally a tannic and good-bodied flavor, such as velvety and harmonious.
Delivery within 24 working hours
Aggiungi alla lista dei desideri
Scheda tecnica
Product

Nebbiolo Marghe
Classification

Langhe DOC
Denomination

DOC
Vintage

2015
Tipology

Vino rosso
Provenance

Italia
Production area

Piemonte
Production area (municipality)

Barolo, Grinzane and Cavour
Grape variety

Nebbiolo
Type of soil

Clay and limestone
Yield per hectare

70 q.li/ha
Winemaking

Fermentation at controlled temperature for 12 days
Aging of wine

40% in new barriques, 60% in barrique second / third pass of 16 months
Alcohol

14,00% vol.
Ageing potential

10 months in large barrel, 4 months in bottle aging
Serving temperature

16-17 °C
Bottle

0,75 l.
Color

Ruby red more or less loaded with slight grenade reflections
Perfume

Delicate and characteristic with purple and red fruit memories
Flavor

Dry, fairly tannic, good body Velvety and harmonious
HISTORY
Damilano is one of the historic cellars of Barolo with centuries-old traditions. The activity of the Damilano family dates back to 1890 when Giuseppe Borgogno, great-grandfather of the current owners, began to cultivate and vinify the grapes owned in the municipality of Barolo - the town of the Langhe that gave its name to the homonymous wine, beautiful land and generous that for centuries has shown its vocation to produce "the king of wines". However, it is with the next generation, with Giacomo Damilano, the founder's son-in-law, that the winery takes its current name. It is he who gives impetus to the care of the vineyards and makes constant improvements in the quality of the winemaking to make it a "jewel" to be transmitted with pride to his grandchildren who since 1997 have been at the helm of the company. Guido, Mario and Paolo Damilano have been able to give new vigor and impetus to the family business, enhancing in particular the main vine of the Langhe, Nebbiolo, and the most suitable vineyards, first of all Cannubi.
THE CELLAR
Since 1997 the winery has been run by Guido, Mario and Paolo Damilano, grandchildren of the founder. The Cellar, clearly visible along the Alba-Barolo provincial road about 1.5 km from Barolo towards Alba, almost at the height of La Morra, has undergone an important renovation and is characterized by a contemporary and functional architecture. Very pleasant is the landscape of the Langhe that surrounds it, by now famous in the world and not only in the enogastronomic one thanks also to its insertion, from the Unesco, in the List of the World Vitivinicolo Cultural Heritage. But the secret of the high quality of Damilano wines lies in the grapes and vineyards, which the Company conducts with the same care, skill and respect as the founders, all combined with contemporary wisdom. These are prestigious vines, located in elective areas, especially for the production of Nebbiolo grapes. Just think of the Crus Cannubi, Liste, Brunate and Cerequio.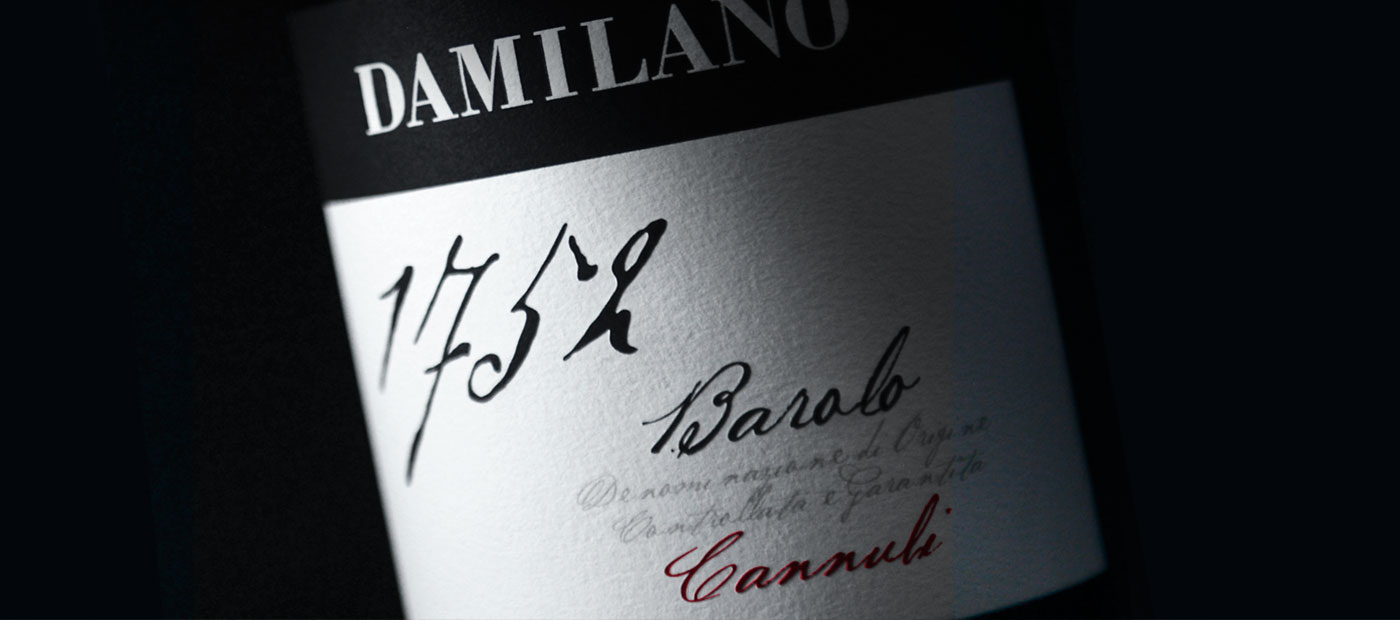 Guarda altri 16 prodotti nella stessa categoria:
Barolo is a Piedmontese DOCG red wine produced by Barbera D'Alba. It has a complex and broad bouquet, with hints of violet and undergrowth. Its taste is full and very well balanced.
The wine owes its name to the presence, on top of the original vineyard, a tree of red apples. Undoubtedly the most prestigious Barbera between those produced by Coppo has given an essential contribution to the...
A fruity, mineral and spiced wine produced with Croatina grapes, Nebbiolo and other 10 varieties of native grapes that are harvested in the old "Maggiorina" vineyards and vinified together. The name comes from the...
Garnet red, clear and transparent wine. Pleasantly fruity and vegetable scents, good intensity and persistence. The tasteful taste shows fresh freshness and pleasant notes of red fruit, sweet cherries and spices. Good...
Dolcetto d'Alba is a DOC red wine produced by Elio Grasso in Piedmont. Scent of fragrant fragrant aromas and berries; the taste is fresh and vinous.
Gaja is a DOC red wine produced by Langhe in Piedmont. Perfect to accompany pasta dishes with truffles, it is ideal with red meats, roasts and aged cheeses.
Ruby red wine with violet reflections. Olfactory examination has good intensity and persistence, vinous, fruity and vegetal. On the palate it is dry, with good acidity and tannins very delicate and almost...
A rare and exclusive grape variety cultivated on only a few hectares, it is best expressed in the red sands of Vittoria, not far from the sea. An aromatic and pleasant red wine as few others, a perfect synthesis...
Barolo is a DOCG wine of Giovanni Rosso produced in Serralunga D'alba in Piedmont. It has a ruby red color with garnet reflections; the nose reveals dark tones like hints of chocolate and coconut, hints of ripe...
Montefico di Roagna is a 100% Nebbiolo produced in Piedmont. It shows a garnet red color, the aroma is intense, with hints of tobacco and sweet spices. The taste is elegant, powerful, of immense vigor
It is a ruby red wine with violet reflections. The bouquet is vinous, fruity, very intense, very pleasant and very persistent. The taste is pleasantly dry, of good fabric, harmonious and velvety, with a distinct...
Laccento is a DOCG red wine produced by Montalbera in Piedmont with only ruchè vines. The nose expresses intense notes of small berries in jam; on the palate it is pleasant, warm, characterized by a silky tannic...
Boca is made up of two types of grapes: King Nebbiolo (85%) who finds his excellence in this area and Vespola (15%) accompanying him in his aging. The latter gives the wines a great spice, a bit of fat, flowers that...
Tortoniano di Michele Chiarlo is a DOCG Barolo produced in Piedmont. It has a beautiful garnet red color; on the nose, it expresses a range of perfumes spread on notes of red fruit, flowers and various spices. When...
I clienti che hanno acquistato questo prodotto hanno comprato anche:
The Pinot Noir is ruby color, has the fresh scent and attractive and the taste is very harmonious. E 'was bottled in traditional Burgundy in an elegant and refined look. The closure with a glass stopper also makes...
SurSur that intercommunication in the language Arabic means "Grillo" is the infamous single variety of Donnafugata, produced with carefully selected grapes Grillo. Turns out to be a perfect wine for every meal, but...
Falanghina of Cantine Astroni is a wine produced in the Campi Flegrei in Campania. It has a straw yellow color and nuanced reflections of green just mentioned. It has a sweet and very delicate taste, in fact there are...
Sedàra is an IGT red wine produced by Donnafugata in Sicily. It is a wine of excellent balance, with a harmonious flavor that closes with a finish of great persistence. It is excellent to combine with meat sauces,...
The Morellino di Scansano Hermitage Castle is a wine characterized by its exceptional combination of altitude, exposure, rich volcanic soil and proximity to the river Albengna. All this creates a truly exceptional...
The Barbazzale White is a wine of exceptional quality from Cottanera. Wine is the son of a mountain environment characterized by minerality offer from the territory of the Etna volcano. Also in this area is a high...