Montevetrano is an IGT red wine produced by Colli di Salerno in Campania. It has a compact garnet color, the nose reveals scents of exotic fruit, vanilla and violets. The taste is very elegant and tannic.
Delivery within 24 working hours
Aggiungi alla lista dei desideri
Scheda tecnica
Product

Montevetrano
Classification

Montevetrano IGT
Denomination

IGT
Vintage

2013
Tipology

Vino rosso
Provenance

Italia
Production area

Campania
Grape variety

60% Cabernet Sauvignon, 30% Merlot, 10% Aglianico
Aging of wine

9 months in barriques of Nevers, Allier and Troncais - 6 months in bottle
Alcohol

13,00% vol.
Bottle

0,75 l.
Color

Compact garnet
Perfume

Accents of exotic fruit, vanilla, violets and wild strawberries, spicy background
Flavor

Elengatissimo, complex, balanced, sapid and tannic
HISTORY
The Montevetrano Farm, owned by Silvia Imparato, is located not far from Salerno. It was created by Silvia's grandparents and then passed on to her father, preserving the character of a farm rather than a winery; in fact the wine, which at the time was of not excellent quality, was produced by the peasants only in small quantities and almost exclusively for personal use. When Silvia's father died, the property was divided among the daughters: in Silvia it was the wine-growing part and the sister the agritourism. At that time Barbera grapes were grown in the vineyards and even small quantities of Uva di Troia, Aglianico and Piedirosso. At the beginning of the 1980s Silvia, with a group of friends, including the oenologist Riccardo Cotarella, began, almost as a joke, to make wine-making experiments. The game went on for a long time, until, in 1991, it gave birth to a wine worthy of the name, a strong and intense wine, a real wine, a wine far superior to expectations: the "Montevetrano". A wine made from 70% Sauvignon and 30% Aglianico, intended initially for the production of a few bottles for friends. However to friends this wine immediately liked very much, so much so that they sent some bottles to a great world expert to have an opinion: Robert Parker; he published an article in a specialized magazine declaring that "the Sassicaia of the south was born ...". After this happy baptism, in 1994, the Montevetrano Agricultural Company was born. Today Silvia, always helped by the oenologist Riccardo Cotarella, has a 6-hectare estate, where she grows Cabernet Sauvignon, Aglianico and Merlot, which allow her to produce 30 thousand bottles of wine a year. A niche production that contributes to giving luster to Campania and to the whole of Italy of wine.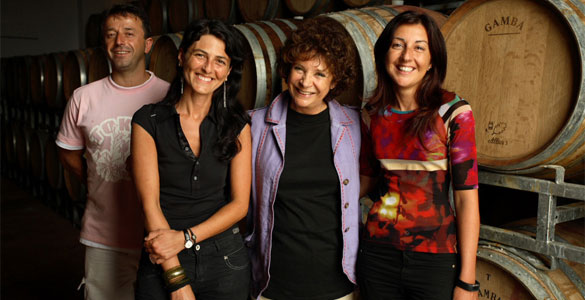 Guarda altri 16 prodotti nella stessa categoria:
Aglianico IGT is a wine produced by Mastroberardino in Campania. It has an intense ruby red color, intense aromas of black cherry, wild blackberry and violet can be perceived on the nose. It has an elegant and soft...
The fruit of the Aragonian white wine making brings to light an ancient family project that emphasizes the great versatility of this noble and ancient vine. Black, fresh and floral, represents a homage to the varietal...
The Mastroberardino Radici Taurasi is an exemplary expression of the grape of Taurasi Aglianico Irpinia area. This wine represents and symbolizes international history and culture of the viticulture of the area....
The Aglianico di Vinosia comes from polposo, spiced and from the vital tannins, expressed with the greatest softness possible.
The Rubrato Aglianico of Feudi di San Gregorio was born in vineyards located in the heart of the unique scenery of Irpinia. It is produced with Aglianico grapes. It has an intense ruby red color and clear. The nose...
Among centenary vineyards in Irpinia, Feudi di San Gregorio rediscovers an ancient vineyard. The genetic analysis shows strong ties with Aglianico, Syrah, Refoscolo and gives birth to a wine with a great...
Terrazze di Levante is a red wine from Ischia DOC produced by Cantine Antonio Mazzella. It has a ruby red color and on the nose you can appreciate overwhelming hints of fruit and spices.
Terre del Gragnano, of the Iovine company, defined as "A small but ... unsurpassable wine, the traditional Neapolitan wine", is ruby red in color, with a scent of small fruits, fresh and young, savory, pleasantly...
From the prestigious name and legendary origin, obtained from the Piedirosso vine, cultivated in the rich Vesuvius area. The bloodstream of the territory, captured in the bottle, is expressed in time even after a long...
Considered the king of wines, he has superior characteristics, with velvety, elegant taste and intense aroma; It is vinified with the most modern technology but always in the respect of the traditions, with a...
Taurasi Upper Valley comes from a careful selection of grapes Aglianico grown to about 700 meters above sea level in the municipality of Castelfranci. Weather conditions and the careful processing of the grapes make...
I clienti che hanno acquistato questo prodotto hanno comprato anche:
A millesimato of extraordinary structure, fascinating synthesis of innovation and tradition. It is the natural complement of the collection of house labels: an elegance to which the wooden elevation gives an...
ES according to Freud is instinctive and unbridled passion, the same thing with which this wine was produced: without conditions, without rules, beyond space and time, logic and morality. The ES undergoes one...
Vigna Cicogna Greek of Tufo is the wine of the wine cellar of Benito Ferrara. It is a white wine of great intensity and sense of authority in taste, which slowly opens to clear and legible flavors. With herbs and...
Wine emblem of the territory where it is born and the maximum expression of its peculiarities, the Chianti Classico Reserve takes proudly on the label the name of the family. 90% of Sangiovese combines 10% Cabernet...
From the name of a Roman centurion who lived in our lands in the second century AD. And first left traces of our viticulture. Produced with sweet Magliocco grapes, grape variety present throughout Calabria, is a red...
Cuvée Prestige, essence of the Franciacorta in Ca 'del Bosco style. A jewel born in 2007 from a knowledge of thirty years. Only the best selections of Chardonnay grapes (75%), Pinot black (15%) and Pinot white (10%)...
Galardi of Terra di Lavoro is a wine of great structure and prestige, made by the clever mixture of Aglianico and Piedirosso. It has an intense ruby red color and its nose opens with elegant scents of blueberry and...