Barolo Lecinquevigne was born from the assembly of five vineyards located in the most famous areas for the production of Nebbiolo grapes. He is a distinguished gentleman who can not be guessed about the ages of 30 to 50, loves to dress in a ruby red color with orange reflections and leave behind him an intense scent of evolved notes of rose, leather, tobacco , From which a scent of purple and goudron emerges. Wide and enveloping in the tasting, where soft feelings prevail in the mouth, with a long and persistent taste.
Delivery within 24 working hours
Aggiungi alla lista dei desideri
Scheda tecnica
Product

Lecinquevigne
Classification

Barolo DOCG
Denomination

DOCG
Vintage

2013
Tipology

Vino rosso
Provenance

Italia
Production area

Piemonte
Production area (municipality)

Castellero (Barolo),Cavourrina (Grinzane Cavour), Ravera (Novello),Bussia (Monforte), Coste (Barolo)
Grape variety

Nebbiolo
Type of soil

Clay and limestone
Yield per hectare

65 q.li/ha
Fermentation

Fermentation at controlled temperature for 15 days
Aging of wine

20% in barrique passage for 24 months, 80% in large barrel
Alcohol

14,00% vol.
Ageing potential

24 months in large barrel, 12 months in bottle aging
Serving temperature

16-17 °C
Bottle

0,75 l.
Color

Ruby red with orange reflections
Perfume

Intense with evolved notes of rose, leather, Tobacco, a scent of purple and goudron emerges
Flavor

Wide and enveloping. Prevalent feelings of softness, with long and persistent taste
HISTORY
Damilano is one of the historic cellars of Barolo with centuries-old traditions. The activity of the Damilano family dates back to 1890 when Giuseppe Borgogno, great-grandfather of the current owners, began to cultivate and vinify the grapes owned in the municipality of Barolo - the town of the Langhe that gave its name to the homonymous wine, beautiful land and generous that for centuries has shown its vocation to produce "the king of wines". However, it is with the next generation, with Giacomo Damilano, the founder's son-in-law, that the winery takes its current name. It is he who gives impetus to the care of the vineyards and makes constant improvements in the quality of the winemaking to make it a "jewel" to be transmitted with pride to his grandchildren who since 1997 have been at the helm of the company. Guido, Mario and Paolo Damilano have been able to give new vigor and impetus to the family business, enhancing in particular the main vine of the Langhe, Nebbiolo, and the most suitable vineyards, first of all Cannubi.
THE CELLAR
Since 1997 the winery has been run by Guido, Mario and Paolo Damilano, grandchildren of the founder. The Cellar, clearly visible along the Alba-Barolo provincial road about 1.5 km from Barolo towards Alba, almost at the height of La Morra, has undergone an important renovation and is characterized by a contemporary and functional architecture. Very pleasant is the landscape of the Langhe that surrounds it, by now famous in the world and not only in the enogastronomic one thanks also to its insertion, from the Unesco, in the List of the World Vitivinicolo Cultural Heritage. But the secret of the high quality of Damilano wines lies in the grapes and vineyards, which the Company conducts with the same care, skill and respect as the founders, all combined with contemporary wisdom. These are prestigious vines, located in elective areas, especially for the production of Nebbiolo grapes. Just think of the Crus Cannubi, Liste, Brunate and Cerequio.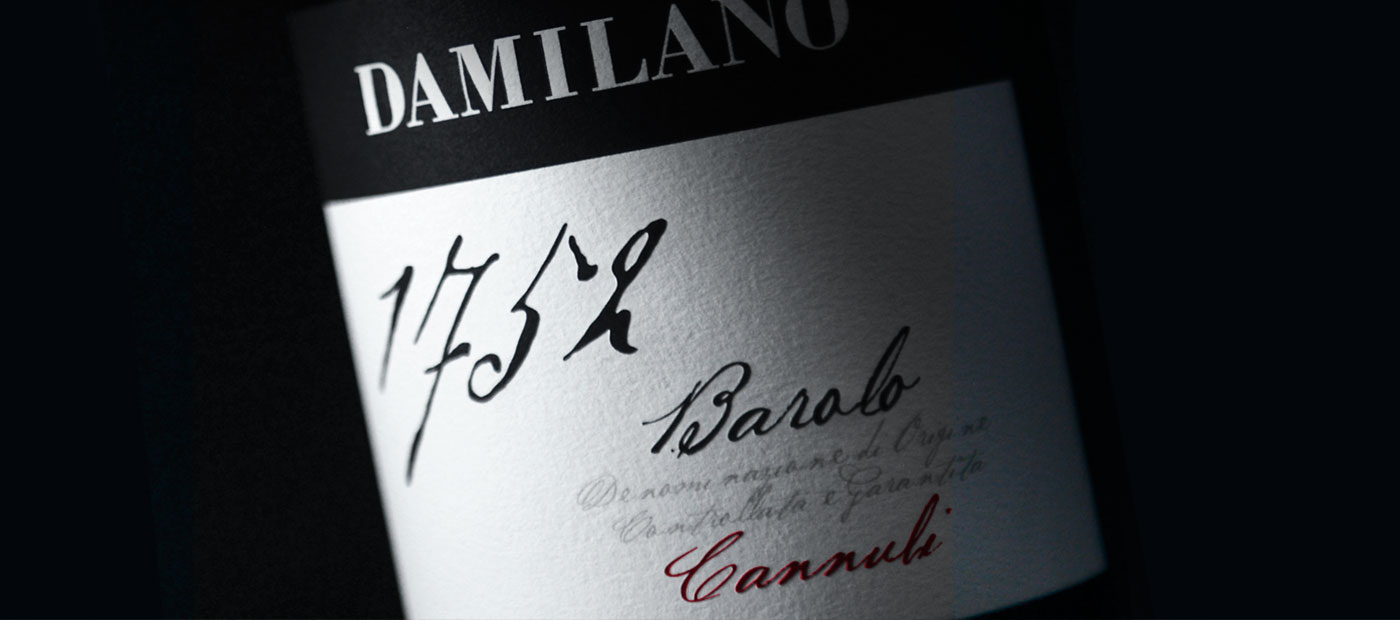 Guarda altri 16 prodotti nella stessa categoria:
Experience grand cru is a composition of six exceptional bottles offered in an elegant wooden box also as excellent gift idea. The selection is as follows: - 2 bottles of Cannubi 2012 - 2 bottles of Brunate 2012 - 2...
Barolo is a DOCG red wine produced in the Vigna Chiniera by Elio Grasso. The winery boasts of its work recognizing itself first as a home for experienced farmers, and then as a manufacturing company. Before being...
This wine is made from Ginestra Cru. The color is a garnet and elegant fragrance enhances the persistent fruity, spicy, balsamic and minerals. On the palate the taste is full and important.
Langhe di Viberti is a 100% Nebbiolo produced in Piedmont. It has a deep red color and an aroma of ripe red fruit, anise and pepper. It has a balanced, full flavor, and is excellent to combine with slightly spicy meat...
Barbera d 'Alba, the company Prunotto, is ruby red with violet reflections. It has a fresh, floral (pink) aroma of ripe fruit with spicy notes due to the wooden passage. A full and harmonious flavor. Being a very...
Vino ruby red wine with purple, clear and transparent reflexes. The nose is vinous and fruity. From the full, rich flavor, with a slight bitter aftertaste typical of the denomination.
Barolo is a DOCG wine of Giovanni Rosso produced in Serralunga D'alba in Piedmont. It has a ruby red color with garnet reflections; the nose reveals dark tones like hints of chocolate and coconut, hints of ripe...
I clienti che hanno acquistato questo prodotto hanno comprato anche:
The Blauburgunder by Cantina Tramin is ruby red in color, has a fresh and captivating aroma and is very harmonious to the taste. It was bottled in the traditional Burgundy in an elegant and refined guise. The closure...
Toros is a DOC wine produced in Friuli by Collio Friulano. It has a straw-yellow color and a sweet almond scent. On the palate it is acidic and lively.
The depth of ruby red color and the porpoise nail characterize this intense wine with spicy notes and delicate vanilla flavor. The large structure and the full and velvety taste make it remarkable breed.
Delicate, pleasant wine and great drinkability. Intense and persistent scent with delicate hints of white flowers and exotic fruit. Dry taste, fresh, lively and fruity. Its salinity, due to its influence on the...
Pinot Nero by Elena Walch is a DOC red wine produced by Elena Walch in Trentino Alto Adige. It represents the typicalness and tradition of Alto Adige, excellent for any occasion and suitable to accompany appetizers...
Pecorino, of Villa Medoro, has a straw yellow color with greenish reflections, it has white peach aromas, elderberry flowers and citrus fruits, wrapped in mineral notes. Delicious and tasty, it is fresh and...
This wine is obtained from grapes harvested in various vineyards located on the hills of Valpolicella (hills of Mezzane and Tregnago). The different origin of different grape varieties is important in order to obtain...