From the prestigious name and legendary origin, obtained from the Piedirosso vine, cultivated in the rich Vesuvius area. The bloodstream of the territory, captured in the bottle, is expressed in time even after a long aging.
Delivery within 24 working hours
Aggiungi alla lista dei desideri
Scheda tecnica
Product

Lacryma Christi of Vesuvio
Classification

Lacryma Christi of Vesuvio Red DOC
Denomination

DOC
Vintage

2016
Tipology

Vino rosso
Provenance

Italia
Production area

Campania
Grape variety

Piedirosso
Altitude

170 meters s.l.
Exposure

Sud-Est
Type of soil

Volcanic soils, loose, very rich in minerals and well drained
System of cultivation

Heading and back with pruning guyot
Plant density

2500 strains per hectare
Type of harvest

Manual
Harvest Time

Half October

Yield per hectare

70 q.li/ha
Winemaking

Classic in red in temperature controlled steel tanks
Aging of wine

Bottled for at least a month
Alcohol

12,50% vol.
Ageing potential

20 years and over
Serving temperature

18 °C
Pairings

Important wine, which prefers to combine with first tasty dishes such as paste or polenta with meat sauces. Ideal with elaborate red meat. Interesting is the combination with the swordfish fish
Bottle

0,75 l.
Color

Intense ruby red
Perfume

Highlights include cherry, plum, raspberry and strawberry flavors, with spicy notes of pepper and cloves
Flavor

It is warm, of great texture and softness, with fine tannins. It gives fruity and spicy notes to taste
HISTORY AND COMPANY
The Mastroberardino winery is one of the oldest and most important productive realities of Campania, whose history is identified with that of a family of entrepreneurs who have become a point of reference in the Italian wine scene. The origins of this family activity date back to the mid-eighteenth century and the winery was officially founded in 1878 in Atripalda, near the town of Avellino, by Angelo Mastroberardino, great-grandfather of the current owner and Knight of the Order of the Crown of Italy. From the end of the nineteenth century, after the phylloxera disaster that destroyed part of the great legacy, the family undertook a long process of rediscovery and enhancement of the native vines and of the typicality of Irpinia, so that Antonio Mastroberardino, awarded in 1994 of the title of Cavaliere del Lavoro, he earned the title of "archaeologist of vines". The same commitment and the same passion now animate the work of his son Pietro, who reaps the fruits of over a century and a half of research in the vineyard and in the cellar driven by the desire to best express territorial excellence and the genius loci. If today Irpinia, with its typical vines such as Aglianico, Fiano and Greco di Tufo, is known and appreciated in the world it is due to this family of winemakers, to whom an important and significant historical merit must be attributed. Today Mastroberardino is a huge production company known throughout the world in various estates covering a total of 250 hectares of vineyards. The main estates are those of: Montemarani, where the Taurasi is born; San Michele and Montefalcione, home to Fiano's excellent expressions; Montefusco, cradle of the Greek; Mirabella, where the Falanghina is produced. The company mission still aims at maximizing the typical grapes of Campania: Greco di Tufo, Fiano, Falanghina and Aglianico in the first place, with a special predilection for the expression of Taurasi, of which the family was the first great promoter in the whole world, taking on a pioneering role in its rediscovery. The desire to rediscover the origins of the Campania tradition led the family, starting in the 1990s, to undertake the project called "Villa dei Misteri", aimed at studying the methods of vinification of ancient Pompeii and the cultivation of a vineyard in proximity of archaeological excavations. Passion, the desire to rediscover their roots and to translate this research into excellent results have remained the fundamental criteria of all production, the result of an extraordinary combination of history, legend, tradition and modernity.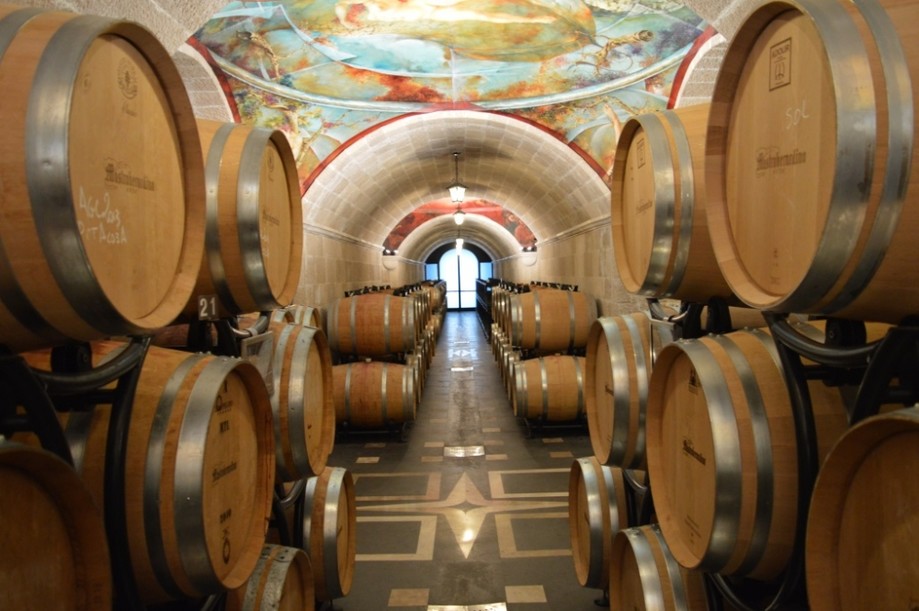 Guarda altri 16 prodotti nella stessa categoria:
Campania Aglianico by Donnachiara is a wine produced in the province of Avellino in the municipality of Montefalcione. It has an intense ruby red color, an elegant and fruity bouquet and an overwhelming taste. The...
Taurasi Upper Valley comes from a careful selection of grapes Aglianico grown to about 700 meters above sea level in the municipality of Castelfranci. Weather conditions and the careful processing of the grapes make...
Orus, produced with Primitivo grapes, from Vinosia, has great extractive fineness and enveloping tasty balance. The grapes mature with scalariness, allowing you to obtain a wide and varied spectrum of wine. It has a...
Taurasi by Cantine di Prisco is a red wine produced in Campoania. It has a red color tending to garnet, has an extremely dense perfume and a full, complete and balanced taste. excellent to combine with truffles,...
Letters, of Cantine Federiche, produced in the Municipality of Lettere, Sorrento Peninsula, show a ruby red color more or less intense; It offers a vibrant, evanescent, odorous smell. It is intense, fruity, with...
The Piedirosso by Fedriciane Cellars is intense ruby red color, tending to garnet with aging; bouquet with intense and characteristic aroma and a dry, harmonious flavor with marasca flavor.
Aglianico del Taburno is a DOCG red wine produced by Nifo Sarrapochiello in Campania. It has a ruby red color and a taste tannic, velvety, suitable to accompany pasta or meat dishes
Ruby red, dark and intense, the Taurasi DOCG Vigna Cinque Querce offers an intense and complex nose with spicy flavors of pepper and nutmeg and elegant balsamic nuances that blend with ripe plum senses and liquorice...
Sannio Aglianico is a PDO wine produced by Vigna Sannite in Campania. The nose has hints of raspberry and plum and has a dry and velvety flavor. It is ideal to accompany red meat dishes.
Aglianico IGT is a wine produced by Mastroberardino in Campania. It has an intense ruby red color, intense aromas of black cherry, wild blackberry and violet can be perceived on the nose. It has an elegant and soft...
Galardi of Terra di Lavoro is a wine of great structure and prestige, made by the clever mixture of Aglianico and Piedirosso. It has an intense ruby red color and its nose opens with elegant scents of blueberry and...
Radici, produced for the first time in 1986, is the result of a long and careful research concerning exposure, soil profiles, soil texture and chemical characteristics of the vineyards' terroir. Its strong, dense...
Aglianico del Sannio Sebastianelli is one of the top-selling wines of the area due to its great flexibility which makes it a complete meal and exceptional quality / price ratio. It is a wine that grace its intense and...
I clienti che hanno acquistato questo prodotto hanno comprato anche:
Selida di Cantina Tramin è un 100% Gewurztraminer prodotto in Alto Adige. Si presenta con un colore giallo paglierino; il profumo è bello, esotico. Al palato si apprezza la sua intensa aromaticità, l'armonia, la...
A wine that is born with the company and which grows with her until she becomes the ambassador representing her in the world. The history of Rocca delle Macìe is in fact tied to a double thread with this Chianti...
Campogiovanni is a 100% Sangiovese produced by Agricola San Felice in Tuscany. It was born in the vineyards of the prestigious Tenuta di Campogiovanni, located in the Sienese municipality of Montalcino, and is...
Pecorino, of Villa Medoro, has a straw yellow color with greenish reflections, it has white peach aromas, elderberry flowers and citrus fruits, wrapped in mineral notes. Delicious and tasty, it is fresh and...
The Aglianico di Vinosia comes from polposo, spiced and from the vital tannins, expressed with the greatest softness possible.
The Piedirosso is also known as Per 'and Palummo because the original mature biotype has a red stain color that makes it like a paw of a pigeon. It is a typical Campania or rather Parthenopean vine, because it...