Kratos, Fiano Paestum IGT of the company Luigi Maffini, has an intense straw yellow color, with an odor of exotic fruit, kiwi and honey. It is soft and balanced to taste, with floral finish and dried apricot.
Delivery within 24 working hours
Aggiungi alla lista dei desideri
Scheda tecnica
Product

Kratos
Classification

Fiano Paestum IGT
Denomination

IGT
Vintage

2017
Tipology

Vino bianco
Provenance

Italia
Production area

Campania
Grape variety

Fiano
System of cultivation

Guyot pruning sparrow
Plant density

4.000 p/ha
Harvest Time

First and second decade of September
Yield per hectare

70 q.li/ha
First year of production

1996
Winemaking

Soft pressing of fermented grapes at controlled temperature in stainless steel tanks
Aging of wine

In stainless steel tanks for about 4 months
Alcohol

13,00% vol.
Bottle

0,75 l.
Color

Intense straw yellow
Perfume

Of exotic fruit, apple, kiwi
Flavor

Soft and balanced, with a final reminiscent of acacia flowers and dried apricots
HISTORY
Luigi Maffini's goal has always been to be able to "shape the earth to be able to taste it" and we can confirm with absolute certainty that he has succeeded very well. Since 1996, the year in which his winery was founded, with constant passion and dedication, Luigi has followed the care of his vineyards from which, with rigorous vinification, he creates wines that have a modern imprint, but that do not betray their deep and essential bond at all with the earth. Flanked by his friend Luigi Moio, his range of Aglianico and Fiano managed to find a way to channel the innate generosity of this area of ​​Campania, with well-balanced and harmonic labels. Not many are the years that see him engaged in the work of winegrower, but the successes obtained immediately with his labels have led him to restructure the company founded by his father in the 70s. Today the area under vines is made up of 4 hectares of property, almost entirely replanted, using historic vines such as Aglianico and Fiano, and 2 hectares of Piedirosso and Sangiovese in rented condition. It is precisely the territoriality of Luigi Maffini's wines that makes the winery a must if you want to know and fully understand the soul and flavors of the Cilento terroir: wines that can amaze and fascinate.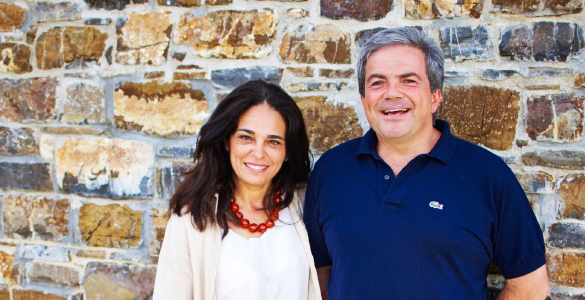 Guarda altri 16 prodotti nella stessa categoria:
The denomination is born from a legend: Lucifero, chased by the Heaven, brought with himself an edge of it, deposed it in the Naple's Gulf. God, aching to have lost a so beautiful part of the Heaven, started to cry...
Cesare dell'Eremo produced with Falanghina del Taburno grapes, is yellow gold. The smell, complex, reminiscent of dried fruits, spices and wildflowers.
The Greek of Tufo Fonzone was born from a vineyard planted in 1994 in Santa Paolina. Microclimate, sandy and sandy soils and low yields give exclusive grapes to grapes which, when harvested, have a characteristic...
The Fiano di Avellino Rocca del Principe was born in Lapio, a town in Irpinia, an inland area of ​​Southern Italy. In its own, even if small territory two denominations agree: the Taurasi DOCG, red wine produced with...
Atellanum, produced with Asprinio, is of straw yellow color. On the nose are noticeable citrus notes that can be traced back to lemon peel, lime and green apple. At taste tasting has good persistence and good acid...
Solopaca Falanghina, obtained from grapes from the same vine, is harvested in the second decade of September, when they have reached the peak of aromatic ripeness. After picking and harvesting, the grapes are started...
Caiati is a spicy wine, with hints of white almonds, beeswax and undergrowth notes. It is odorately fruity with carambola and melon and has grapefruit notes on the long end.
Amabile Campania of Cantina di Solopaca is a wine produced in Benevento with IGP certification. It is characterized by mainly Trebbian white grapes, grown on the hills of Solopaca. It has a straw-white color, has a...
Fontanavecchia, with his Falanghina del Sannio, has recently achieved numerous satisfactions thanks to prizes and awards given by the critic. The wine is matured in steel and refined for a few months in the bottle,...
Bechar, Fiano di Avellino DOCG, is obtained from the vinification of grapes from the Fiano of Lapio vineyards. It 'a wine with a beautiful golden yellow color, with a complex aroma of flowers and dried fruit. A true...
Greek word that means 'good drink': in addition to keeping alive the relationship with the ancient Greek tradition, remember how even the wisdom in drinking is a form of civilization. With this new Forastera, vinified...
Fiano di Avellino by Feudi di San Gregorio tells the typicality of the land of Irpinia, and its wine interprets it with fidelity, enhancing it. Fiano is one of the most intense and energetic native vines. Straw-yellow...
Amalfi Coast is a Fiorduva white wine produced by Marisa Cuomo in the Amalfi peninsula. It shows a light golden yellow color; on the nose there is an intense bouquet of yellow fruit and flowers. The taste is rich,...
Wine produced from "Coda di Volpe" whose knowledge goes back to the times of "Pliny the Elder" vine that identified him as "Alopecis". Produced on the hills of Montemarano, benefits from the special climatic...
Fiano di Avellino, of the Terredora company, has an intense straw yellow color, has elegant and complex aromas of ripe fruits and flowers, including hints of pear, apricot, citrus, toasted hazelnut, acacia, hawthorn...
I clienti che hanno acquistato questo prodotto hanno comprato anche:
Falerno del Massico is a white DOC wine produced by Villa Matilde in Campania. It is a wine with deep and elegant aromas, with hints of yellow fruit and flowers. If left to age, it will be possible to appreciate more...
S 'èleme, Vermentino di Gallura, has a pale yellow color with soft greenish reflections. It offers a precious bouquet, from the distant smell of apple and bitter almond, and the palate is dry and soft.
The Dubl, produced from grapes greek expresses the richness of perfumes and the white berries of this variety body. In the glass it has a bright golden yellow color, great minerality and fragrant notes of yeast. The...
Produced from the Aglianico vine, already known in Roman times as 'Vitis Hellenica', cultivated in the center of the Contrada Iampenna area in the Cinque Querce vineyard, in Agro di Montemarano (AV). A careful and...
Cerasuolo di Gulfi is a full-bodied DOCG red wine with a beautiful structure, to be combined with the most characteristic and structured dishes of Southern Italy. A good Sicilian red, which expresses the soul and the...
Pietracupa's Tufo Greco manages to combine all the components with a mineral component. It is a unique and unmistakable white wine, defined and long-lasting for a bottle that makes longevity its most sincere...
Col termine di simbiosi (dal greco sin e bios, cioè vita insieme) si indica la relazione che si instaura tra due individui di specie differenti, tesa ad un beneficio reciproco o di uno almeno dei partner, senza che...