Kleos is an aglianico produced by Luigi Maffini in the municipality of Castellabate. It has a ruby red color with violet reflections. The nose opens with aromas of ripe red fruit and on the palate it is pleasantly soft and spicy. It is ideal to accompany meat sauce and roasts.
Delivery within 24 working hours
Aggiungi alla lista dei desideri
Scheda tecnica
Product

Kleos Paestum Rosso
Classification

Paestum Rosso IGT
Denomination

IGT
Vintage

2015
Tipology

Vino rosso
Provenance

Italia
Production area

Campania
Grape variety

70% Aglianico, 10% Barbera, 20% Piedirosso
Plant density

3000 piants/ha
Harvest Time

First and second ten days of October
Yield per hectare

75 q.ls/ha
Alcohol

13,50% vol.
Bottle

0,75 l.
Color

Ruby red with violet reflections
Perfume

Cherries and currant jam
Flavor

Morbido con note mentose ed un finSoft with mental notes and a fresh and persistent finishale fresco e persistente
HISTORY
Luigi Maffini's goal has always been to be able to "shape the earth to be able to taste it" and we can confirm with absolute certainty that he has succeeded very well. Since 1996, the year in which his winery was founded, with constant passion and dedication, Luigi has followed the care of his vineyards from which, with rigorous vinification, he creates wines that have a modern imprint, but that do not betray their deep and essential bond at all with the earth. Flanked by his friend Luigi Moio, his range of Aglianico and Fiano managed to find a way to channel the innate generosity of this area of ​​Campania, with well-balanced and harmonic labels. Not many are the years that see him engaged in the work of winegrower, but the successes obtained immediately with his labels have led him to restructure the company founded by his father in the 70s. Today the area under vines is made up of 4 hectares of property, almost entirely replanted, using historic vines such as Aglianico and Fiano, and 2 hectares of Piedirosso and Sangiovese in rented condition. It is precisely the territoriality of Luigi Maffini's wines that makes the winery a must if you want to know and fully understand the soul and flavors of the Cilento terroir: wines that can amaze and fascinate.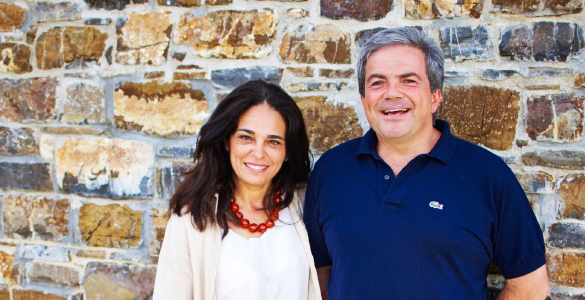 Guarda altri 16 prodotti nella stessa categoria:
Per e Palummo of the woman, Antonio Mazzella shows an intense ruby red color. It has a scent of violet and a dry taste, tannic right. It is great to combine bunnies with bunnies, game, and cheeses.
Among centenary vineyards in Irpinia, Feudi di San Gregorio rediscovers an ancient vineyard. The genetic analysis shows strong ties with Aglianico, Syrah, Refoscolo and gives birth to a wine with a great...
Divonero by La Masseria di Maria is a PDO Barbera produced in Sannio. It is a soft and decisive wine at the same time, with a remarkable body; at first glance a woody taste is perceived which will then leave room for...
Montevetrano is an IGT red wine produced by Colli di Salerno in Campania. It has a compact garnet color, the nose reveals scents of exotic fruit, vanilla and violets. The taste is very elegant and tannic.
1890 Piedirosso Pompeiano by Iovine, is a wine produced in purity from the grapes locally called "Pere è pallummo" (bones with characteristic stalks in color and shape to "Piedi di colombo"in english "pigeon's feet")...
The company 's intent is to combine traditional methods with modern technologies. On Taburno, the vineyards enjoy special pedo-climatic conditions, rich soils of clay and marble and a favorable sun exposure, which...
Aglianico Campania è un vino IGP di Cantine Astroni. Si presenta con un color rubino brillante, ha un profumo fruttato di piccoli frutti rossi ed ha un sapore ben strutturato, morbido e persistente. 
The name Ambruco derives from the linguistic contamination of "vitis labrusca", that is wild vine. In the locality of the same name, there were centuries-old plants of wild vines considered by the peasants for their...
Aglianico IGT is a wine produced by Mastroberardino in Campania. It has an intense ruby red color, intense aromas of black cherry, wild blackberry and violet can be perceived on the nose. It has an elegant and soft...
"Nec cellis ideo contends Falernis" so do not compete with Falerno (Virgilio, Georgiche). The most famous wine of history and literature, Falerno, of deep red color, is born from Aglianico and Piedirosso grapes...
Produced from the Aglianico vine, already known in Roman times as 'Vitis Hellenica', cultivated in the center of the Contrada Iampenna area in the Cinque Querce vineyard, in Agro di Montemarano (AV). A careful and...
Malambruno, produced by the company Amarano, has a ruby red color and an intense and spicy scent that can evolve over time into various olfactory sensations. The taste is fresh and structured, which make it a very...
I clienti che hanno acquistato questo prodotto hanno comprato anche:
Torbata Terreblu is a complex and intriguing Grappa, with floral and woody notes; the taste is velvety and harmonious, with a full and vinous body
Torcicoda is a Primitivo del Salento IGT produced by Tormaresca in Puglia. It has an intense ruby red color; the bouquet is fruity, with hints of red berries and licorice. The taste is rich, full-bodied, with a finish...
The Privilege is a great passionate with the intense bouquet. It is a sweet wine produced with Fiano grapes, an ancient vine cultivated in the Avellino area. It is golden yellow; The nose is intense with soft apricot...
Falanghina del Sannio brut of Solopaca is born from the vinification of grapes from native grape from vineyards selected in the Sunni territory, harvested by hand in small boxes and processed with long Charmat method...
White color is pale yellow with golden reflections. To the smell it affects the evidence of the fruit, with sensations of yellow apple, raspberry and white flowers and almonds. The taste is dry, full and delicate,...
Janare Guardiolo, produced with Aglianico grapes, in Sannio Beneventano, Campania, is an intense color wine with violet shades. The smell of cherry blends together with the vanilla leaves from the barrel passage. The...