Fiano di Avellino by Feudi di San Gregorio tells the typicality of the land of Irpinia, and its wine interprets it with fidelity, enhancing it. Fiano is one of the most intense and energetic native vines. Straw-yellow with greenish reflections, the Mediterranean sensations are clear. On the palate the typical notes of softness of the vine are complemented by lively freshness and minerality.
Delivery within 24 working hours
Aggiungi alla lista dei desideri
Scheda tecnica
Product

Fiano di Avellino
Classification

Fiano di Avellino DOCG
Denomination

DOCG
Vintage

2018
Tipology

Vino bianco
Provenance

Italia
Production area

Campania
Production area (municipality)

Cerza Grossa-Sorbo Serpico (AV)
Grape variety

Fiano
Fermentation

About 4 months in steel tanks stay on its lees
Alcohol

12,50% vol.
Serving temperature

8-10 °C
Pairings

White ideal with shellfish, fish with sauces and grilled seafood
Bottle

0,75 l.
Color

Straw yellow with greenish highlights decided
Perfume

They recognize the nose clean sensations of fresh flowers such as chamomile, peach and candied orange
Flavor

Typical soft notes of the grape are supplemented by lively freshness and minerality
HISTORY
One of Feudi di San Gregorio's most important visions is to believe that the birth of a wine has the same creative process as a work of art. Love and passion in caring for plants, commitment to harvesting grapes and patience while waiting for mature wine, make every bottle express its personality and become a work of art. with this approach the collaborations with great masters and talented youngsters are born, aimed at continuing and increasing the will of a continuous exchange of knowledge and creativity between wine and art. The same feelings and emotions lead the creative path of a artist, which leads him to create a sculpture, a photograph, a painting, an installation.
CELLAR
Feudi di San Gregorio is today the symbol of the enological renaissance of southern Italy and of a culture of drinking aimed at rediscovering the identity of Mediterranean flavors. Valuing the vines of Southern Italy such as Aglianico, Fiano di Avellino and Greco di Tufo, investing in the land and in the centuries-old tradition of Irpinia viticulture, restoring a future to a unique environmental heritage. Climb the hill towards Sorbo Serpico, enter a magical world, between unexpected water places, spice gardens and blooming roses. However, the biggest surprise is inside the cellar: the long barrel cellar that houses red wines. The intent is to go beyond the concept of wine cellar, making it become a forum, a place for meeting, for comparison, for knowledge, for meditation, a laboratory of ideas and culture, a place of welcome and refreshment. The project was attended by world-class professionals: the Japanese architect Hikaru Mori had the difficult task of giving architectural unity to the pre-existing structures, developed over time. Massimo and Lella Vignelli, symbols of Italian design in the world and "authors" of the company's labels, have designed the furnishings and interiors.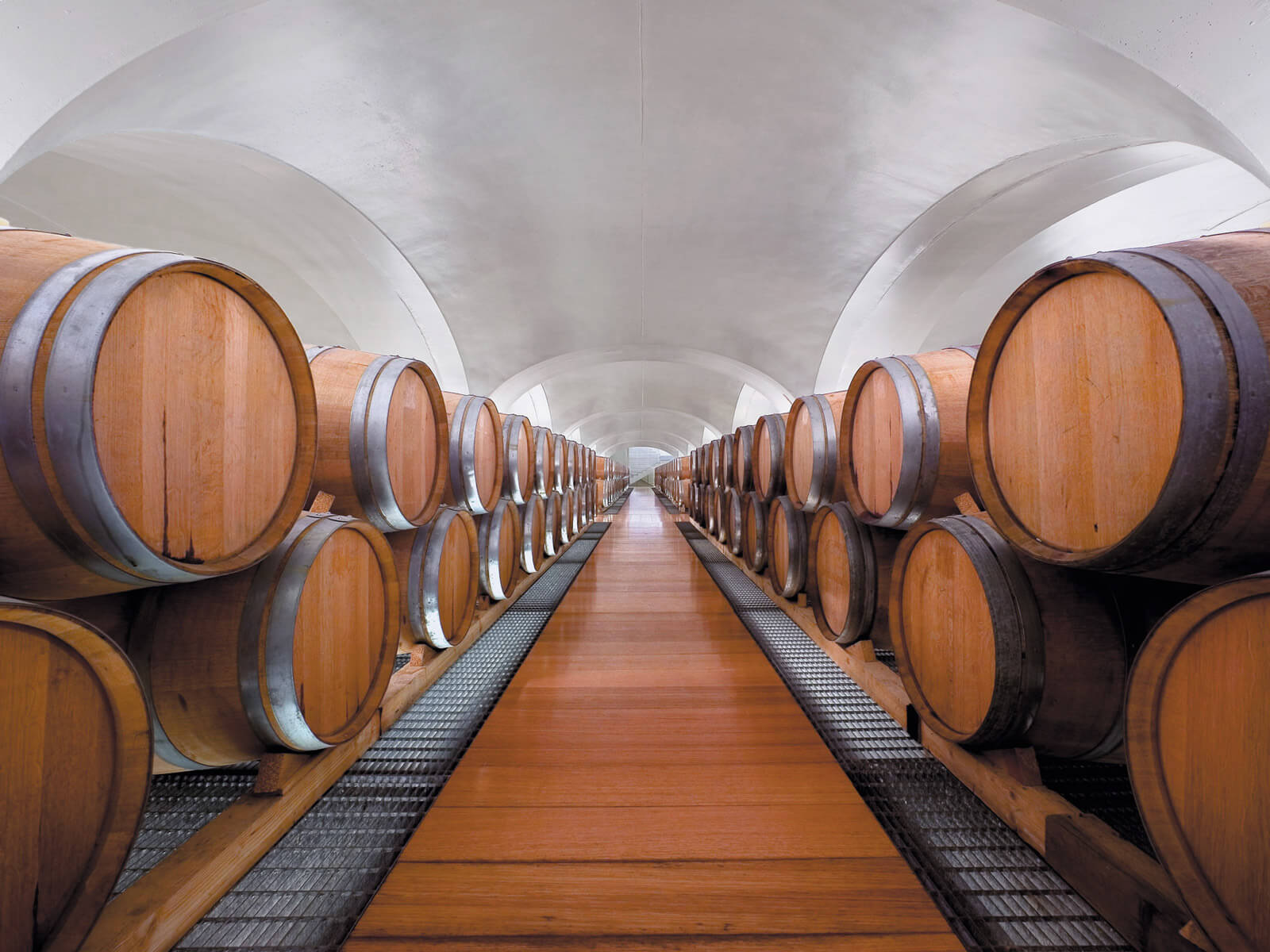 Guarda altri 16 prodotti nella stessa categoria:
Atellanum, produced with Asprinio, is of straw yellow color. On the nose are noticeable citrus notes that can be traced back to lemon peel, lime and green apple. At taste tasting has good persistence and good acid...
Caiati is a spicy wine, with hints of white almonds, beeswax and undergrowth notes. It is odorately fruity with carambola and melon and has grapefruit notes on the long end.
Pietracalda is a selection of the best grapes of Fiano, who come from many small vineyards of Irpinia. It has decided straw yellow. The perfume ranges from fresh chamomile flowers, peach, candied citron. On the palate...
Fiano di Avellino by Ciro Picariello is an exceptional wine yellow straw color, fruity aroma and elegant and fresh flavor. It has always been considered "the master of the Fiano di Avellino" and has always proved the...
In the territory of Sorbo Serpico (AV), the vineyards always coexist with fruit trees, forests, olive groves, herbs. From the chalky soils of Santa Paolina are the grapes from the best vineyards were harvested: the...
The Falanghina of the Flegrei Fields is a grape of Greek origin, still cultivated on an exterior foot, thanks to the territory of volcanic origin and a favorable ecosystem. The vine, supported by a pole - Phalange -...
Dazzling, velvety and chameleon is the Fiano D.O.C.G. of Contrada wine cellar produced exclusively in the area of origin. A bright wine, carious character, draws with its rich bouquet: white peach and citrus fruit,...
The Greek di Tufo of Amarano is a wine of excellent quality. It goes perfectly with fish or white meat and it tastes fruity with a long after taste.
The fruit of a careful and continuous search for the discovery of the best vine-territory connotation, is born in Radici, in a conception in which the complexity of the characters is exalted by an unusual density for...
Falanghina Sannio of Sebastianelli is a product of choice, excellent as a table wine, but also perfect for special occasions and aperitifs. This wine has an exceptional quality / price ratio while maintaining...
Grotte of Colli di Castelfranci is a Greco di Tufo produced in Campania. It has a pale straw yellow color, has a smell of gentle white flowers and yellow fruit. It tastes surprisingly mineral and balanced in its...
The Foxtail is perhaps the white wine that most of all exalts the characters of the Sannita territory, grape that in this environment expresses the best of itself. This wine is rich in straw yellow color, broad and...
Falanghina Colle Imperatrice is one of the most important products of Cantine degli Astroni in the province of Naples. It is said that the vine entered for the first time in Italy from the port of Cuma in the Campi...
I clienti che hanno acquistato questo prodotto hanno comprato anche:
Nerojbleo di Gulfi is a Nero d'Avola Organic IGT produced in Sicily. It has an intense red color, the nose is clean and direct with bitter and salty scents. The palate is enveloping, with lively tannins and a...
Il Vecchio Amaro del Capo un liquore calabrese della Distilleria Caffo di Limbadi, esportato in tutto il mondo e riconosciuto apertamente come prodotto e simbolo locale. è prodotto in provincia di Vibo Valentia,...
Solopaca Falanghina, obtained from grapes from the same vine, is harvested in the second decade of September, when they have reached the peak of aromatic ripeness. After picking and harvesting, the grapes are started...
The company 's intent is to combine traditional methods with modern technologies. On Taburno, the vineyards enjoy special pedo-climatic conditions, rich soils of clay and marble and a favorable sun exposure, which...
Da
€14.30
(Iva inc.)
€14.80
The Grigio Riserva is a DOCG red wine produced by Agricola San Felice in Tuscany. Its body is robust, with a strong acidity and is ideal to combine with consistent dishes such as red meats and aged cheeses.
Aglianico del Sannio Sebastianelli is one of the top-selling wines of the area due to its great flexibility which makes it a complete meal and exceptional quality / price ratio. It is a wine that grace its intense and...