The Dubl, produced from grapes greek expresses the richness of perfumes and the white berries of this variety body. In the glass it has a bright golden yellow color, great minerality and fragrant notes of yeast. The palate is vertical, austere, very elegant with great persistence. To drink throughout a meal of seafood cuisine.
Delivery within 24 working hours
Aggiungi alla lista dei desideri
Scheda tecnica
Product

Dubl Greco
Classification

Spumante Classic Method
Denomination

IGT
Tipology

Sparkling wine
Provenance

Italia
Production area (municipality)

Sorbo Serpico
Grape variety

Greco
Alcohol

12,50% vol.
Other Adwards

Oscar of wine 2015
Recommended glass

Flùte
Serving temperature

10 °C
Pairings

Particularly suitable for raw fish (sushi), lobster or shellfish, rice
Bottle

0,75 l.
Color

Brilliant
Perlage

Numerous, fine grain and very persistent
Perfume

Great minerality and fragrant notes
Flavor

Vertical, austere, very elegant with great persistence
HISTORY
One of Feudi di San Gregorio's most important visions is to believe that the birth of a wine has the same creative process as a work of art. Love and passion in caring for plants, commitment to harvesting grapes and patience while waiting for mature wine, make every bottle express its personality and become a work of art. with this approach the collaborations with great masters and talented youngsters are born, aimed at continuing and increasing the will of a continuous exchange of knowledge and creativity between wine and art. The same feelings and emotions lead the creative path of a artist, which leads him to create a sculpture, a photograph, a painting, an installation.
CELLAR
Feudi di San Gregorio is today the symbol of the enological renaissance of southern Italy and of a culture of drinking aimed at rediscovering the identity of Mediterranean flavors. Valuing the vines of Southern Italy such as Aglianico, Fiano di Avellino and Greco di Tufo, investing in the land and in the centuries-old tradition of Irpinia viticulture, restoring a future to a unique environmental heritage. Climb the hill towards Sorbo Serpico, enter a magical world, between unexpected water places, spice gardens and blooming roses. However, the biggest surprise is inside the cellar: the long barrel cellar that houses red wines. The intent is to go beyond the concept of wine cellar, making it become a forum, a place for meeting, for comparison, for knowledge, for meditation, a laboratory of ideas and culture, a place of welcome and refreshment. The project was attended by world-class professionals: the Japanese architect Hikaru Mori had the difficult task of giving architectural unity to the pre-existing structures, developed over time. Massimo and Lella Vignelli, symbols of Italian design in the world and "authors" of the company's labels, have designed the furnishings and interiors.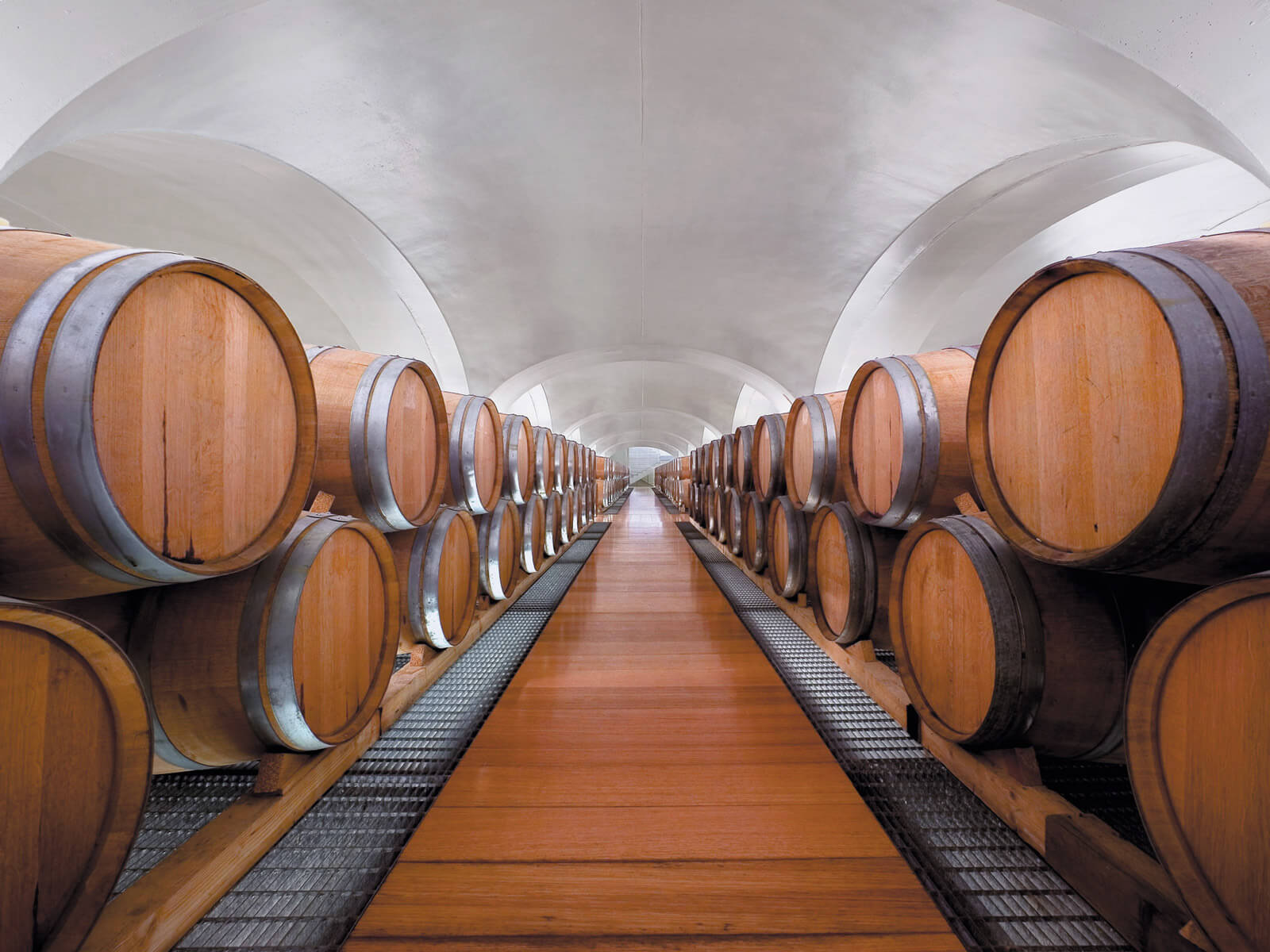 Guarda altri 16 prodotti nella stessa categoria:
Montenisia comes from the estate to the south of Lake Iseo of the same name, in one of the most prestigious areas with regard to the wine culture of the region. It is made from Chardonnay, Pinot Blanc and Pinot Noir...
Montepulciano Marina Cvetic is the diamond's point of the line. Produced since 1997, this wine includes an assembly of pure Montepulciano grapes, coming from several vineyards located all in the commune of San Martino...
Obtained from grapes harvested from old vine screws, coming mainly from the vineyard, Duke Sanfelice, which gives the name to the wine itself, represents the wine of the Viet Nam tradition in our interpretation.
La Passerina, from the Villa Modoro company, is known for its freshness and its sweetness. It is a wine that makes simplicity its most important feature. Straw yellow in color, nose expresses floral and fruity notes,...
The Cortec Brut has a certain character. It is produced entirely with Chardonnay grapes coming from vineyards located in the various towns of Franciacorta, to collect in one cuvée all the scents and aromas of a...
Carapace by Tenute Lunelli is a Montefalco Sagratino DOCG organic produced in the Castelbuono estates in Umbria. The nose is fruity, with hints of blackberry and blueberry jam and intense notes of cherry in spirit,...
Summary of Sagrantino's power and the elegance of Sangiovese, the Red Montefalco of Lunelli Estate expresses the full fascination of a territory of ancient traditions. The nose immediately affects the elegance and...
Flamingo is the new release of one of Franciacorta's who have made history and contributed to the success of Monte Rossa, Rosé Brut. Pink and black, pinstripe and sequins, he and her immersed in the unceasing...
From the 2002 meeting with Anselme Selosse, the great champagne master, DUBL was born. From Falanghina, one of the vintages of the bells par excellence, San Giorgio's Feudi cellar makes this original interpretation...
The Brecciato Castel del Monte Rosso is produced by a biodynamic farm with Black Troy and Montepulciano grapes. It is intense ruby red with hints of marasca and mature cherry. It is dry but velvety, pleasantly tannic,...
Pecorino, of Villa Medoro, has a straw yellow color with greenish reflections, it has white peach aromas, elderberry flowers and citrus fruits, wrapped in mineral notes. Delicious and tasty, it is fresh and...
Montepulciano d'Abruzzo Villa Medoro is a whole meal wine with a ruby red color with violet hues. It looks good in any kind of first course, main courses of meat and cheese. Villa Medoro is always concentrated in the...
Wine that takes the name of the favorite student of Socrates is a mixture of Chardonnay (90%) and Sauvignon Blanc (10%). Two vines perfectly set in the Rosaneti and Critone seals that contribute to the production of a...
I clienti che hanno acquistato questo prodotto hanno comprato anche:
With the 1983 vintage, which was released in May 1984, Vincae called the Yellow Ribbon to recall the centenary of work and dedication to the Vermont and five generations of Jermann wine. Vinnae, a mixture of Ribolla,...
Grillo is an IGT white wine produced by Sallier de la Tour in Sicily. It has a scent of sage and citrus notes; its taste is very fresh and enjoys an excellent drinkability. It is excellent to combine with fish and...
Capocaccia di Sella e Mosca is an IGT wine produced in Sardinia. The Sangiovese grapes are combined with the largest native vines in a traditional red with pleasant olfactory hints of red fruit. Dry, dry, sapid...
Pietraincatenata by Luigi Maffini is a fiano produced in Castellabate (SA), on the hills overlooking the Tyrrhenian Sea. The grapes are harvested by hand between the end of September and the middle of October, are...
Aglianico Sannio is obtained exclusively from grapes of the homonymous vine harvested in the second decade of October when they have reached the peak of the polyphenolic maturation. Carefully selected the grapes are...
Cream of Limoncello of Sorrento high quality. A niche product by the company Eden that selects only lemons grade for its spirits. For lovers of the products "homemade" ... a company that produces for passion and that...