The encounter in 2002 with Anselme Selosse, great master of Champagne, born Dubl. An ambitious and simple project at the same time: use the native grapes Falanghina, Aglianico and Greek to produce a Spumante Metodo Classico in Campania.
Delivery within 24 working hours
Aggiungi alla lista dei desideri
Scheda tecnica
Product

Dubl
Classification

Aglianic Sparkling Rosin Classic Method
Denomination

IGT
Tipology

Sparkling wine
Provenance

Italia
Grape variety

Aglianico
Alcohol

13,00% vol.
Recommended glass

Flùte
Serving temperature

8 °C
Pairings

A seafood (soups, pasta or roasted) pizza, pies, soups of vegetables, fresh cheeses
Bottle

0,75 l.
Color

Rose small but a bright shade
Perlage

Fine and persistent
Perfume

Jovial and opened
Flavor

Soy notes and ripe fruits without losing elegance and balance
HISTORY
One of Feudi di San Gregorio's most important visions is to believe that the birth of a wine has the same creative process as a work of art. Love and passion in caring for plants, commitment to harvesting grapes and patience while waiting for mature wine, make every bottle express its personality and become a work of art. with this approach the collaborations with great masters and talented youngsters are born, aimed at continuing and increasing the will of a continuous exchange of knowledge and creativity between wine and art. The same feelings and emotions lead the creative path of a artist, which leads him to create a sculpture, a photograph, a painting, an installation.
CELLAR
Feudi di San Gregorio is today the symbol of the enological renaissance of southern Italy and of a culture of drinking aimed at rediscovering the identity of Mediterranean flavors. Valuing the vines of Southern Italy such as Aglianico, Fiano di Avellino and Greco di Tufo, investing in the land and in the centuries-old tradition of Irpinia viticulture, restoring a future to a unique environmental heritage. Climb the hill towards Sorbo Serpico, enter a magical world, between unexpected water places, spice gardens and blooming roses. However, the biggest surprise is inside the cellar: the long barrel cellar that houses red wines. The intent is to go beyond the concept of wine cellar, making it become a forum, a place for meeting, for comparison, for knowledge, for meditation, a laboratory of ideas and culture, a place of welcome and refreshment. The project was attended by world-class professionals: the Japanese architect Hikaru Mori had the difficult task of giving architectural unity to the pre-existing structures, developed over time. Massimo and Lella Vignelli, symbols of Italian design in the world and "authors" of the company's labels, have designed the furnishings and interiors.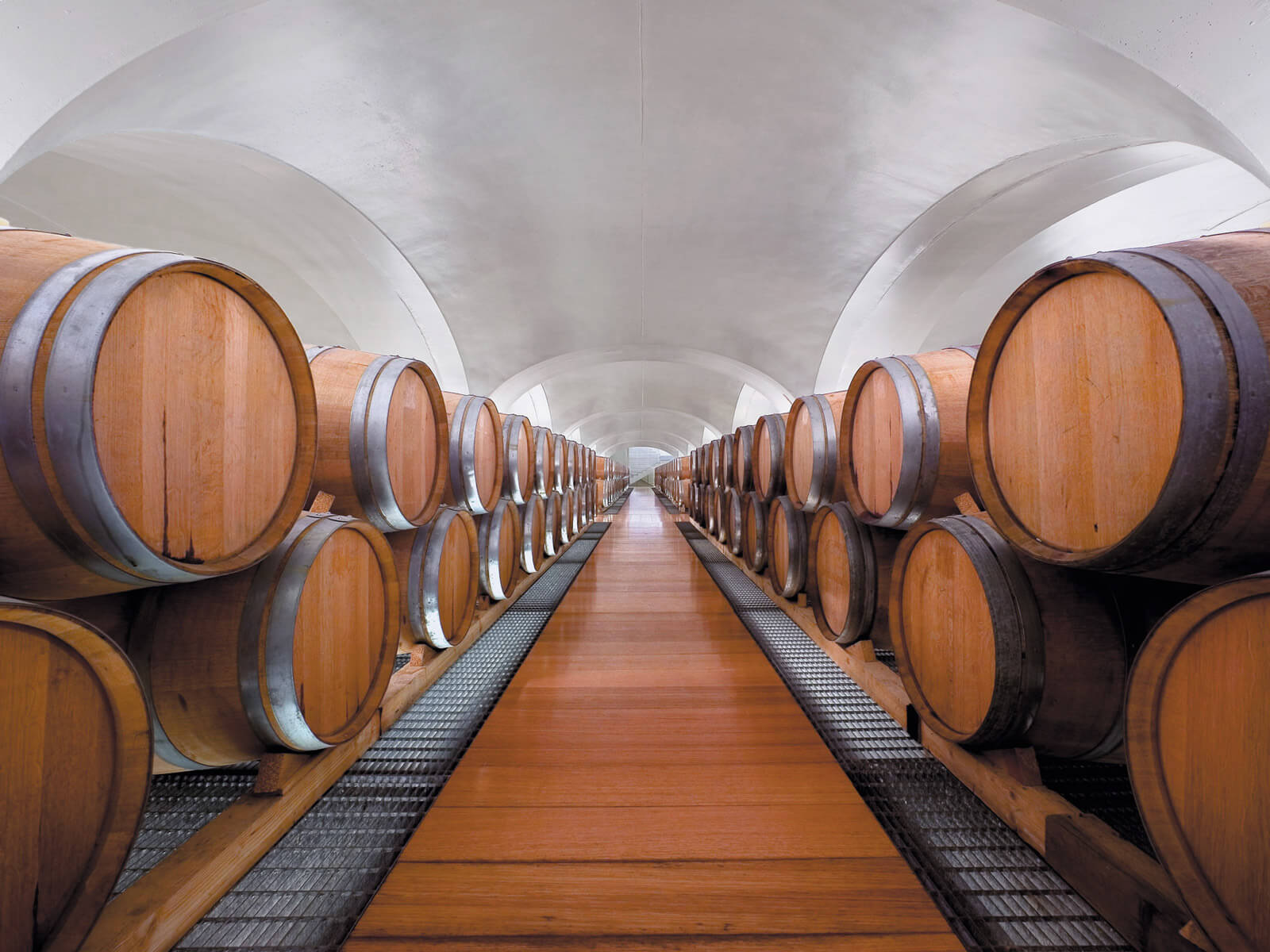 Guarda altri 16 prodotti nella stessa categoria:
Il Franciacorta Satén di Cavalleri è un DOCG senza euguali. Le sue caratteristiche uniche ed il suo prezzo molto competitivo lo rendono uno dei prodotti più appetibili sul mercato. Prodotto dalla qualità inequivocabile
And 'the most typical product, made exclusively from white Bombino grapes, grape native to the House of Araprì has successfully tested as a wine-based apt to be a sparkling wine with the classic method. The technique...
The unmistakable personality of this Asti originates from a millennial cuvée, the result of a careful selection of the best grapes of every vintage. Unique in its kind, Asti Millesimato Fontanafredda is the aromatic...
Only the bunches ripened in excellent vintages are vinified with great care to give origin to this Millesimato. It is a spumante obtained in varietal purity, 100% Glera grapes, handmade in absolute respect of the...
Intense straw yellow, clear and bright. Very fine and persistent perlage. Very intense aromatic expression with hints of yeast, bread crust, herbs, acacia flowers and honey. The palate is really large, harmonious and...
Cuvée Prestige, essence of the Franciacorta in Ca 'del Bosco style. A jewel born in 2007 from a knowledge of thirty years. Only the best selections of Chardonnay grapes (75%), Pinot black (15%) and Pinot white (10%)...
Alma Gran Cuvée Bellavista is an excellence of their understanding of Franciacorta. It is the utmost expression of a project that, since 1977, has sought to find the pure essence of harmony. Today, it is a symbol of a...
The Gran Cuvèe Rosè Bellavista is a special vintage cuvèe that is produced in very limited quantities and comes from the union of at least 15 of the most prestigious selections of our vineyards, some of which are...
Elegant sparkling wine. with a slight hint of bread crust. which reveals its harmonic structure and makes it suitable for numerous combinations
Ferrari Maximum is a Spumante Rosè Metodo Classico DOC. It is presented with a bright antique pink color; the nose is fragrant with hints of small fruits and yeast. On the palate it is very elegant, with a finish of...
Cuvée 60 months: the excellence of a range of products, a combination of quality, territory and image. From the intense scent of vanilla, yeast and ripe fruit, with a fragrant taste, rich and persistent, is the...
Caprettone Spumante classical method is vinified with grapes Caprettone in purity, for a taste only Vesuvius. Winner of the South Roots 2016 Red Dot of the Merano Wine Festival. The spumante Caprettone is a sparkling...
Assoluto. Libero da ogni limite, un valore in costante divenire. Come l'impegno esclusivo, necessario per creare questo Franciacorta dedicato ad Annamaria Clementi, fondatrice di Ca' del Bosco e madre di Maurizio...
he Casata Monfort range of products includes a classic spumante (sparkling wine) made according to the traditional methods in which fermentation takes place in the bottle. It is produced with Chardonnay grapes from...
I clienti che hanno acquistato questo prodotto hanno comprato anche:
Vite Maritata, the company Borboni, is born in vineyards located in Agrigento Aversano and Giugliano in Campania. It is produced entirely with Asprinio grapes. It has a golden yellow color and its nose opens with a...
Falerno Rosso D.O.C. Originated from grapes obtained from Primitivo vineyards cultivated in the Mondragone area. Vinification is done with traditional maceration. Subsequently, the wine is subjected to a refining...
Produced from the Aglianico vine, already known in Roman times as 'Vitis Hellenica', cultivated in the center of the Contrada Iampenna area in the Cinque Querce vineyard, in Agro di Montemarano (AV). A careful and...
Poggio Valente Riserva is a DOCG red wine produced by Fattoria Le Pupille in Tuscany. It is a great wine to taste at a dinner with friends, combining great dishes of fine meat or game
Perhaps the most important grape native of South Tyrol, the Lagrein has a ruby red color and intense garnet red, with a pleasant scent of violets and blackberries. The taste is full, round and with good structure....
Montenisia comes from the estate to the south of Lake Iseo of the same name, in one of the most prestigious areas with regard to the wine culture of the region. It is made from Chardonnay, Pinot Blanc and Pinot Noir...
Prosecco is the typical white wine of the area between Conegliano and Valdobbiadene. It 'a wine with delicate fruity and floral notes, persistent acidity and a balanced body. This sparkling wine expresses all its...