Don Antonio is a 100% Nero d'Avola IGP produced by Da Morgante wines in Sicily. It has a spicy and fruity aroma, its taste is broad, velvety and with a very long persistence
Delivery within 24 working hours
Aggiungi alla lista dei desideri
Scheda tecnica
Product

Don Antonio Nero d'Avola
Classification

Nero d'Avola IGP
Denomination

IGP
Vintage

2014
Tipology

Vino rosso
Provenance

Italia
Production area

Sicilia
Grape variety

100% Nero d'Avola
Type of soil

White limestone with clay fractions
System of cultivation

Guyot and spurred cordon
Plant density

3500 stocks / ha
Yield per hectare

40 q.ls/ha
First year of production

1998
Winemaking

20 days maceration on the skins in stainless steel tanks
Fermentazione Malolattica

Svolta
Aging of wine

In bottles for 7-8 months
Alcohol

14,00% vol.
Total acidity

5,20 g/l
pH

3,6
Dry extract

36,00 g/l
Pairings

Excellent with mature aged cheeses, large roasts of red meat or braised wild game
Bottle

0,75 l.
Color

Deep ruby red
Perfume

Hints that range between ripe cherry fruit, rose, sweet spices, licorice and cocoa
Flavor

Wide, velvety, but at the same time it is powerful and of very long persistence
HISTORY
We were very young and inexperienced, but eager to understand how much and where this bet of ours would have led us, knowing that being in the deep South of Sicily would not have facilitated us. Here the earth is burned by the sun and the clods are dry and fiery; a land without water, where raising a vine is difficult and a source of great sacrifice. During our growth process we have faced important choices such as focusing on autochthonous vines, mechanizing, slowly transforming everything that was possible to transform into the systems of the production chain, trying to exploit in the best way that technology that came to our rescue and which has somehow changed the approach to wine, a little all over the world. In these years we have worked hard to build something and grow entrepreneurially, trying to smooth out not only the natural difficulties that this land presents, but also the operational problems that the small and very small plots, scattered within a radius of 30 kilometers around Grotte and which determine here and there the thousand borders of the 200 Ha of our property, require every day. When we started, we were aware of the sacrifices that awaited us, today we are proud of those sacrifices, because we have been humbly able to embrace the hard work of the earth and interpret the world of wine without letting ourselves be intoxicated, inserting ourselves in that new generation of Sicilians that is not wanted to emigrate abandoning their origins, but instead tried to compete with life to help change their land a bit. For us of importance there is only that customer that esteems us and respects us for the product we offer him every year; he is the most important thing we have and we know that only through him can we continue to make the winemakers here in Grotte, in the south of Sicily. Inspired by a text by Andrea Zanfi, Journey among the great wines of Sicily, Carlo Cambi Editore, Poggibonsi (SI), 2003, pp. 202-204.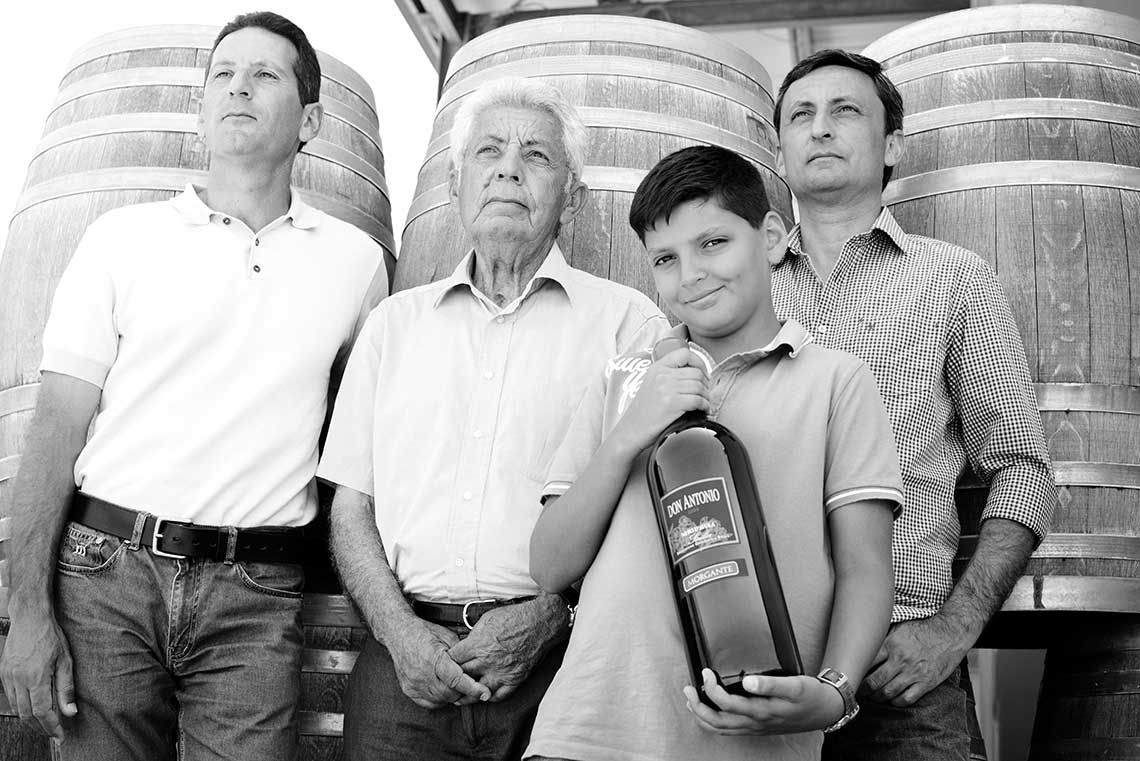 Guarda altri 16 prodotti nella stessa categoria:
Great wine Nerello Mascalese, produced by Azienda Agricola Tenute Orestiadi. The quality / price is really exceptional. It is a wine-red color with garnet, intense bouquet and flavor elegant and well structured.
Cerasuolo di Gulfi is a full-bodied DOCG red wine with a beautiful structure, to be combined with the most characteristic and structured dishes of Southern Italy. A good Sicilian red, which expresses the soul and the...
Zisola is the fruit of the fortunate meeting between a great Tuscan family and a territory that has received from nature the privilege of a strong vocation to the breeding of the vine
It is through Sicily that, thanks mainly to the Phoenicians, the cultivation of the vine has arrived in Italy. Ours is a land in which every vine finds an adequate habitat and transmits unique olfactory and taste...
Nero d'Avola is a wine of remarkable personality, importance and elegance. It has a ruby red color with purple reflections, the nose is characterized by hints of red and cherry fruit and in the mouth it is fresh, soft...
Lamuri is a 100% Nero d'Avola IGT produced by Tasca d'Almerita in Sicily. It has a scent of small red fruits and spices such as laurel and licorice. The taste is rich with a sweet and soft tannin
Cerasuolo di Vittoria is a DOCG red wine produced by Planeta in Sicily. It has a good scent of small red fruits and its flavor is sapid and tannic at the right point.
Noà is an IGP red wine produced by Cusumano in Sicily. It has a dark ruby red color, has a complex aroma, a mixture of fruit and sweet spices. The taste is harmonious, warm and enveloping
Merlot 2014 from Cusumano, from the vineyards of Presti and Pegni, in the province of Trapani, is expressed in its glass with its typical fruity notes, as fresh and delicate as deep, typical of the best jams. The...
"Dear Maestro" is the most complex wine to obtain among those produced by Cantile Fina. It is a blend with variable percentages depending on the characteristics of each vine that vary from harvest to harvest. This is...
Cabernet Sauvignon is an IGT red wine produced in Sicily by Tasca d'Almerita. It comes with a fragrance of berries, vanilla and black pepper. The taste is intense, with a dense and persistent tannin.
Sedàra is an IGT red wine produced by Donnafugata in Sicily. It is a wine of excellent balance, with a harmonious flavor that closes with a finish of great persistence. It is excellent to combine with meat sauces,...
I clienti che hanno acquistato questo prodotto hanno comprato anche:
Noà is an IGP red wine produced by Cusumano in Sicily. It has a dark ruby red color, has a complex aroma, a mixture of fruit and sweet spices. The taste is harmonious, warm and enveloping
The Talò San Marzano Primitivo wines has been incredibly successful at the international level to the point of being recognized around the world for its unique taste, but also to the very prestigious Gambero Rosso...
Fierce, majestic, complex, exuberant: it is the kind giant of Masi. It is a reference point for the Amaroni category, which together with Barolo and Brunello represents the aristocracy of Italian reds. It is the...
Nozze d'Oro is a white DOC wine produced by Tasca D'Almerita in Sicily. A great Italian white, surprising for its ability to age and for the emotions it can give to many years after the harvest
Rosso del Soprano is an IGT red wine produced by Palari di Salvatore Geraci in Sicily. The dry and enveloping taste of this wine will perfectly accompany roasted meat and grilled cheeses
Anthilia is a white IGT wine produced by Donnafugata in Sicily. It is a fresh wine with a Mediterranean character that expresses fruity and floral notes of great personality. It is excellent to combine with fish and...