In the territory of Sorbo Serpico (AV), the vineyards always coexist with fruit trees, forests, olive groves, herbs. From the chalky soils of Santa Paolina are the grapes from the best vineyards were harvested: the Cutizzi is the best expression of the Greek, intense fruit, flowers and herbs sensations.
Delivery within 24 working hours
Aggiungi alla lista dei desideri
Scheda tecnica
Product

Cutizzi
Classification

Greco di Tufo DOCG
Denomination

DOCG
Vintage

2017
Tipology

Vino bianco
Provenance

Italia
Production area

Campania
Production area (municipality)

Sorbo Serpico (AV)
Grape variety

Greco
Manufacture

Maturation for about 4-5 months in steel fermentation on the lees and repeated batonnage to put in suspension the fine lees
Alcohol

13,00% vol.
Serving temperature

10-12 °C
Pairings

Excellent with raw fish, buffalo mozzarella, crazy water sea bass and sea bream baked
Bottle

0,75 l.
Color

Yellow with golden reflections
Perfume

Intense and persistent. They recognize the nose net sensations of fruit, from green plum pear 'Mast'Antuono' (typical bell) until decided balsamic sensations of pennyroyal
Flavor

It immediately senses the acidity and strong minerality
HISTORY
One of Feudi di San Gregorio's most important visions is to believe that the birth of a wine has the same creative process as a work of art. Love and passion in caring for plants, commitment to harvesting grapes and patience while waiting for mature wine, make every bottle express its personality and become a work of art. with this approach the collaborations with great masters and talented youngsters are born, aimed at continuing and increasing the will of a continuous exchange of knowledge and creativity between wine and art. The same feelings and emotions lead the creative path of a artist, which leads him to create a sculpture, a photograph, a painting, an installation.
CELLAR
Feudi di San Gregorio is today the symbol of the enological renaissance of southern Italy and of a culture of drinking aimed at rediscovering the identity of Mediterranean flavors. Valuing the vines of Southern Italy such as Aglianico, Fiano di Avellino and Greco di Tufo, investing in the land and in the centuries-old tradition of Irpinia viticulture, restoring a future to a unique environmental heritage. Climb the hill towards Sorbo Serpico, enter a magical world, between unexpected water places, spice gardens and blooming roses. However, the biggest surprise is inside the cellar: the long barrel cellar that houses red wines. The intent is to go beyond the concept of wine cellar, making it become a forum, a place for meeting, for comparison, for knowledge, for meditation, a laboratory of ideas and culture, a place of welcome and refreshment. The project was attended by world-class professionals: the Japanese architect Hikaru Mori had the difficult task of giving architectural unity to the pre-existing structures, developed over time. Massimo and Lella Vignelli, symbols of Italian design in the world and "authors" of the company's labels, have designed the furnishings and interiors.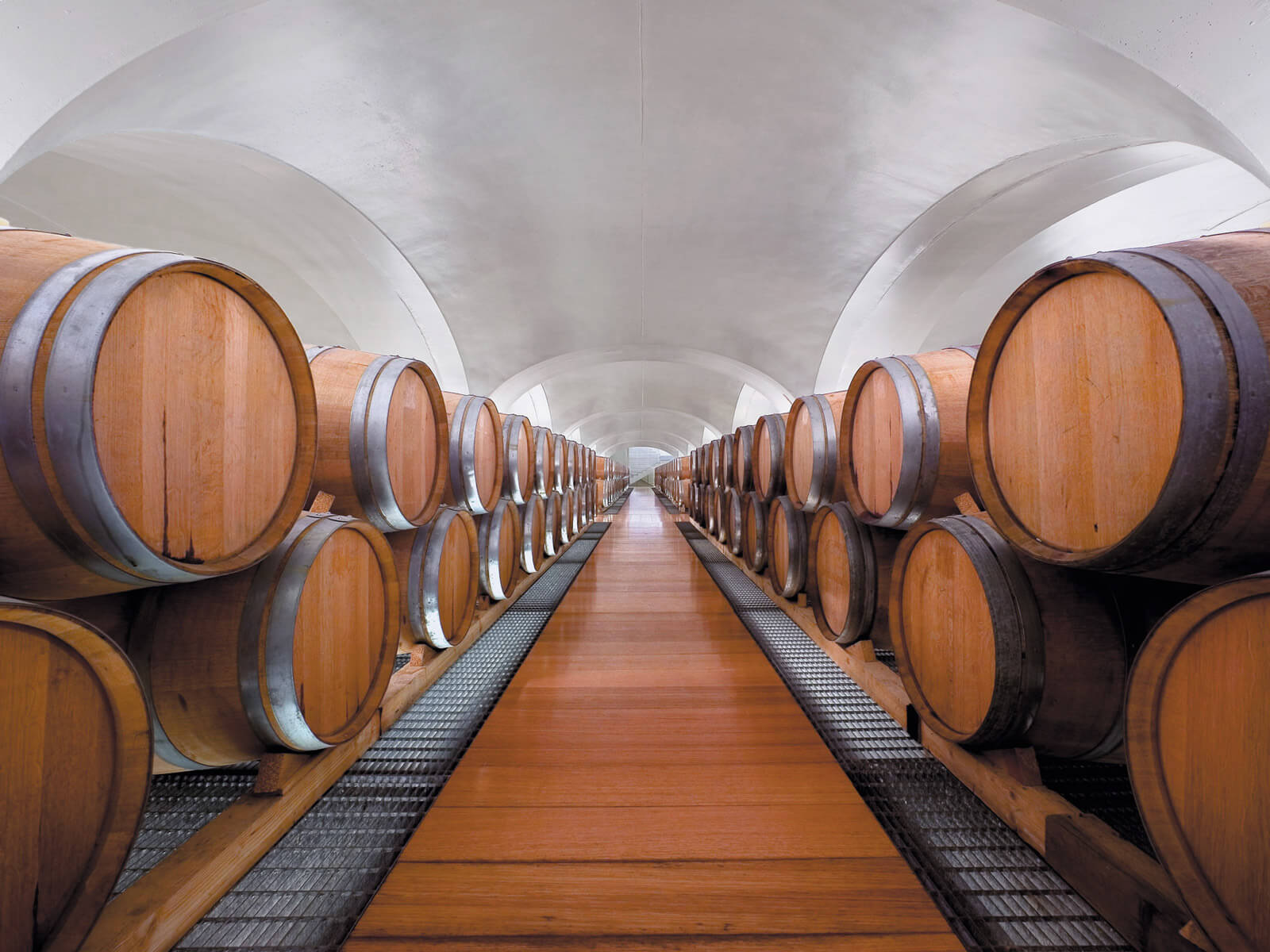 Guarda altri 16 prodotti nella stessa categoria:
White color is pale yellow with golden reflections. To the smell it affects the evidence of the fruit, with sensations of yellow apple, raspberry and white flowers and almonds. The taste is dry, full and delicate,...
Stilèma Fiano di Avellino DOCG ist die Frucht von Trauben aus Weinbergen, die sich zwischen Montefalcione und Manocalzati befinden und sich durch tonig-kalkige Böden auszeichnen, aber auch sandige und mittelrote, die...
Biancolella Tenuta Frassitelli of Casa d'Ambra, is of gold color and intense, delicate, persistent flavor. On the nose scents of broom, herbs, plum, honey millefiori join with net salgem notes. Sole full and intruded...
Fiano of Avellino by Pietracupa, confirms his vocation to excellence. Long, bright, is wine that is impossible to resist. An olfactory profile crossed by a decidedly minerality that is a prelude to a fresh, fulfilling...
The denomination is born from a legend: Lucifero, chased by the Heaven, brought with himself an edge of it, deposed it in the Naple's Gulf. God, aching to have lost a so beautiful part of the Heaven, started to cry...
Bechar, Fiano di Avellino DOCG, is obtained from the vinification of grapes from the Fiano of Lapio vineyards. It 'a wine with a beautiful golden yellow color, with a complex aroma of flowers and dried fruit. A true...
Amabile Campania of Cantina di Solopaca is a wine produced in Benevento with IGP certification. It is characterized by mainly Trebbian white grapes, grown on the hills of Solopaca. It has a straw-white color, has a...
Vineyard of the Lume is produced to the east of Ischia Island, 100 meters from the sea level, in the Punta del Lume resort, which is called "o 'lummo". It has a pale yellow color, a floral aroma and almost ripe fruit,...
This wine is a bland that comes from Fiano grapes 85%, Trebbiano 10% and Greek 5% which give it a unique and unique flavor. Produced by the farm San Giovanni, located on the sea, in one of the most beautiful areas of...
Falanghina of Cantine Astroni is a wine produced in the Campi Flegrei in Campania. It has a straw yellow color and nuanced reflections of green just mentioned. It has a sweet and very delicate taste, in fact there are...
The Ariella, produced with Greco di Tufo, features the reddish, creamy and polished minerals at the same time. It is a wine characterized by its distinctive character and its aromatic and unmistakable character.
Donnalaura of Masseria Frattasi is a 100% Falanghina DOC produced in the Sannio in Campania. It shows a deep straw yellow color and citrus scents. The taste is fruity and soft, with a long and mineral finish. It is...
From the golden color, the facetus Taburno Falanghina is a layered and powerful wine that has aged gracefully. The bouquet carries traces of candied fruit, dried apricot, caramel, butter and spices. Facetus shows the...
I clienti che hanno acquistato questo prodotto hanno comprato anche:
Prosecco is the typical white wine of the area between Conegliano and Valdobbiadene. It 'a wine with delicate fruity and floral notes, persistent acidity and a balanced body. This sparkling wine expresses all its...
The Sabazio is characterized by a scent of fresh and fruity floral notes, with red and violet currants. On the palate it is sapid and mineral with a sweet, fruity and persistent finish.
And 'the most typical product, made exclusively from white Bombino grapes, grape native to the House of Araprì has successfully tested as a wine-based apt to be a sparkling wine with the classic method. The technique...
The Vernaiolo is one of the historic members of the Rocca delle Macìe family and has always played the role of the most traditional Chianti. Its name comes from Latin vernàle, that is spring, and indicates in fact the...
From the dried grapes used for the production of Amarone, shortly after fermentation, the best selection of Valpolicella is "re-done", to begin the second fermentation that enriches the alcohol content, color,...
Pendino di Colli di Castelfranci is a Fiano di Avellino DOCG. Fiano is an ancient vine known and already cultivated by the Latins in the South of Italy. It is believed that its origin is in the areas of Lapio on the...
Radici, produced for the first time in 1986, is the result of a long and careful research concerning exposure, soil profiles, soil texture and chemical characteristics of the vineyards' terroir. Its strong, dense...