Brunello di Montalcino 2011 is a DOCG red wine produced by Pian dell'Orino in Tuscany. Its taste is elegant, full-bodied, with a fine tannic texture, and is excellent to combine with red meats and aged cheeses
Data sheet
Product

Brunello di Montalcino DOC
Denomination

DOCG
Vintage

2012
Tipology

Vino rosso
Provenance

Italia
Production area

Toscana
Vineyards

Le uve vengono dai vigneti Pian dell'Orino e Pian Bossolino, che sitrovano ad un'altitudine di 330-470m L'et
Winemaking

Come tutti gli anni l'uva veniva ulteriormente controllata e selezionatasul tavolo di selezione La macerazione prefermentativa durata 3giorni La fermentazione spontanea si svolse abbastanza lentamentee ci sono volute circa 3 settimane alla completa trasformazionedegli zuccheri Durante la fase di lavorazione del vino nonvengono aggiunti nè lieviti nè batteri nè enzimi o additivi tecnologici,per mantenere la tipicit
Alcohol

14,80% vol.
Total acidity

6,0 g/L
pH

3,5
Dry extract

30,90 g/L
Serving temperature

18-20 °C
Pairings

Excellent with stewed or grilled red meat, game and aged cheeses
Bottle

0,75 l.
Color

Ruby in the glass, clear
Perfume

Nose of exemplary aromatic cleanliness, played on pretty hard tones, ethereal notes, red fruit, terrigno, whispered more than screamed
Flavor

In the mouth it is still hard, played on a beautiful sweet fruit, of great rigor and good acidity
HISTORY AND COMPANY
Pian dell 'Orino is one of the names of excellence of Brunello di Montalcino: a small winery that has achieved record valuations both in Italy and abroad in recent years. Caroline Pobitzer from South Tyrol was founded in 1997 together with her German husband Jan Herback, a long-time winemaker and winemaker, united by a common passion for the Montalcino terroir and great wines. The Pian dell'Orino winery is located in the town of the same name in the municipality of Montalcino, next to the Greppo estate of the Biondi Santi family. The property is divided into 4 vineyards with a total area of ​​6 hectares, cultivated by Jan with great competence, attention to every detail and respecting biodynamics. The agronomic approach pursues the highest quality and the work in the cellar takes place in a natural and non-invasive way, enhancing the work done in the vineyard: "the cellar has little or much to do with what grape brings us inside" says Jan If in the vineyard all synthetic chemicals are banned in favor of biodynamic preparations, manure and green manure, in the cellar the fermentations take place in steel or truncated cone-shaped vats, without temperature control and with long maceration. In continuity with the best traditional practices, only native yeasts are used and the refinements provide for the use of large barrels. The wines of Pian dell'Orino represent high and vertiginous expressions of Montalcino: from the intense and juicy red to the Brunello of great depth, with a classic and austere, fruity and expressive character. These are wines of great complexity and elegance, produced with so much wisdom following traditional and genuine methods: the result of vineyards treated in every detail.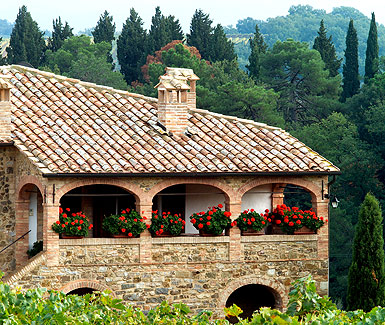 16 other products in the same category:
Customers who bought this product also bought: