Albente by Feudi di San Gregorio is a white wine produced from the best Falanghina grapes. Straw-yellow in color, it has a clean and clean bouquet of white fruits and flowers. In the mouth it expresses fresh and soft. It is ideal for every day meal.
Delivery within 24 working hours
Aggiungi alla lista dei desideri
Scheda tecnica
Product

Albente Falanghina
Classification

Falanghina IGT
Denomination

IGT
Tipology

Vino bianco
Provenance

Italia
Production area

Campania
Production area (municipality)

Sorbo serpico
Grape variety

100% Falanghina
Fermentation

About 4 months in stainless steel tanks at 16-18 °C
Alcohol

13,00% vol.
Serving temperature

8-10 °C
Pairings

An ideal wine for the meal of every day. Excellent as an aperitif, any appetizer and dishes based on fish and vegetables
Bottle

0,75 l.
Color

Straw yellow
Perfume

Clean and clear with fruits and white flowers
Flavor

Fresh and soft
HISTORY
One of Feudi di San Gregorio's most important visions is to believe that the birth of a wine has the same creative process as a work of art. Love and passion in caring for plants, commitment to harvesting grapes and patience while waiting for mature wine, make every bottle express its personality and become a work of art. with this approach the collaborations with great masters and talented youngsters are born, aimed at continuing and increasing the will of a continuous exchange of knowledge and creativity between wine and art. The same feelings and emotions lead the creative path of a artist, which leads him to create a sculpture, a photograph, a painting, an installation.
CELLAR
Feudi di San Gregorio is today the symbol of the enological renaissance of southern Italy and of a culture of drinking aimed at rediscovering the identity of Mediterranean flavors. Valuing the vines of Southern Italy such as Aglianico, Fiano di Avellino and Greco di Tufo, investing in the land and in the centuries-old tradition of Irpinia viticulture, restoring a future to a unique environmental heritage. Climb the hill towards Sorbo Serpico, enter a magical world, between unexpected water places, spice gardens and blooming roses. However, the biggest surprise is inside the cellar: the long barrel cellar that houses red wines. The intent is to go beyond the concept of wine cellar, making it become a forum, a place for meeting, for comparison, for knowledge, for meditation, a laboratory of ideas and culture, a place of welcome and refreshment. The project was attended by world-class professionals: the Japanese architect Hikaru Mori had the difficult task of giving architectural unity to the pre-existing structures, developed over time. Massimo and Lella Vignelli, symbols of Italian design in the world and "authors" of the company's labels, have designed the furnishings and interiors.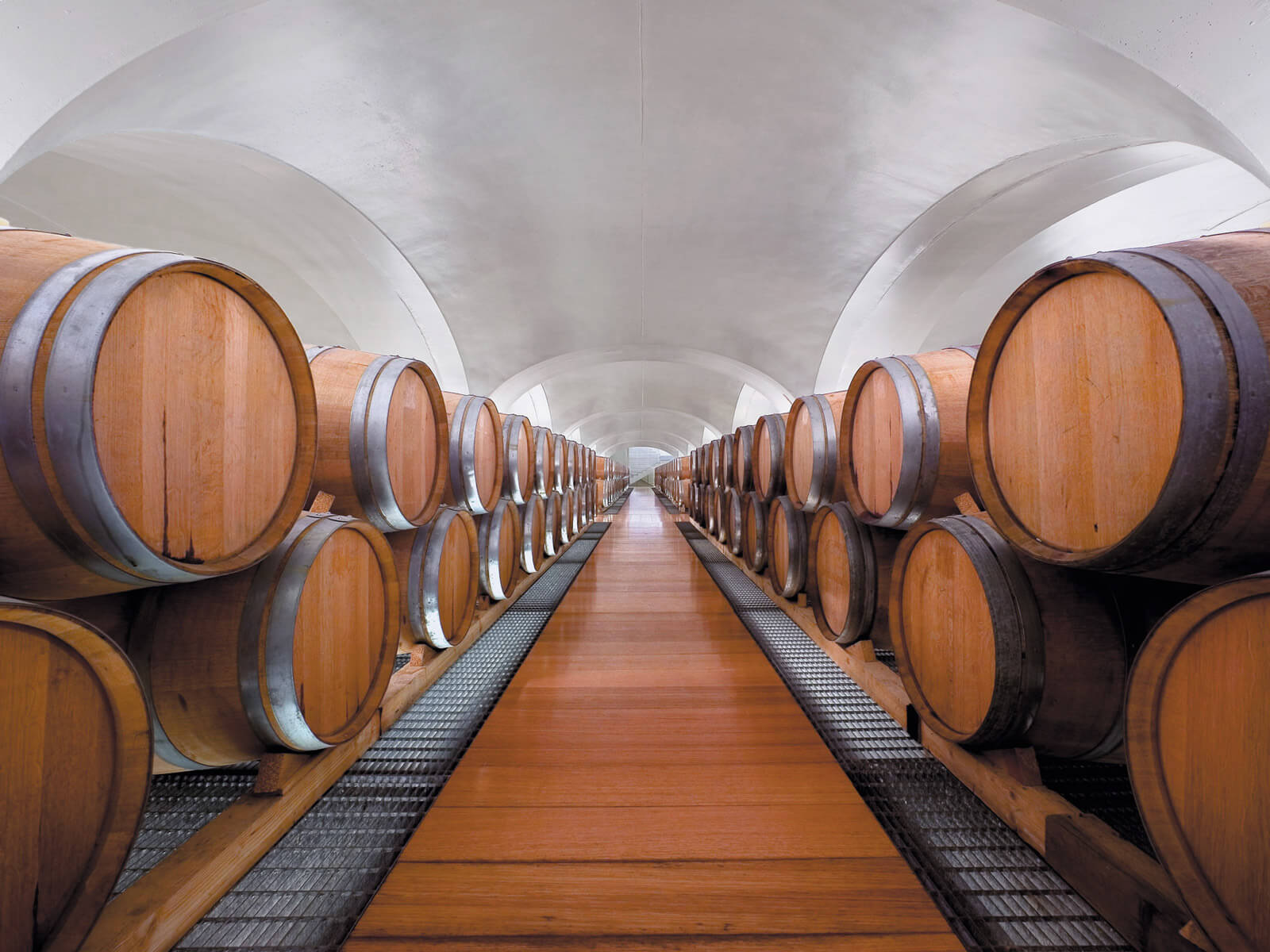 Guarda altri 16 prodotti nella stessa categoria:
Cesare dell'Eremo produced with Falanghina del Taburno grapes, is yellow gold. The smell, complex, reminiscent of dried fruits, spices and wildflowers.
Fiano di Avellino by Feudi di San Gregorio tells the typicality of the land of Irpinia, and its wine interprets it with fidelity, enhancing it. Fiano is one of the most intense and energetic native vines. Straw-yellow...
This ancient variety of grapes dates back to the Greeks, who imported the "vitis Apicia" variety from Campano net territory and it seems that the first vines were planted in Lapio. Apicia's name would be derived from...
Pietraincatenata by Luigi Maffini is a fiano produced in Castellabate (SA), on the hills overlooking the Tyrrhenian Sea. The grapes are harvested by hand between the end of September and the middle of October, are...
Falanghina of Cantine Astroni is a wine produced in the Campi Flegrei in Campania. It has a straw yellow color and nuanced reflections of green just mentioned. It has a sweet and very delicate taste, in fact there are...
Pietracupa's Tufo Greco manages to combine all the components with a mineral component. It is a unique and unmistakable white wine, defined and long-lasting for a bottle that makes longevity its most sincere...
Dazzling, velvety and chameleon is the Fiano D.O.C.G. of Contrada wine cellar produced exclusively in the area of origin. A bright wine, carious character, draws with its rich bouquet: white peach and citrus fruit,...
Authentic, wild and seductive is Cru Selvecorte D.O.C.G. of Contrada wine cellar produced exclusively in the area of origin. Wonderful, lively, engaging with its spicy and floral notes: lime, acacia and honey. Sharp...
Sintonia, the olfactory iridescence of the grape, the aromatic triumph of its true and spicy nature. The union between the minerality and the sapidity of the Greek and the aroma of the Fiano creates an original flavor...
Fontanavecchia, with his Falanghina del Sannio, has recently achieved numerous satisfactions thanks to prizes and awards given by the critic. The wine is matured in steel and refined for a few months in the bottle,...
This wine is a bland that comes from Fiano grapes 85%, Trebbiano 10% and Greek 5% which give it a unique and unique flavor. Produced by the farm San Giovanni, located on the sea, in one of the most beautiful areas of...
I clienti che hanno acquistato questo prodotto hanno comprato anche:
Bolonero di Torrevento is a ruby-colored wine, full and fragrant bouquet and a pleasant taste. It is ideal for approaching red meats, roasts, game and seasoned cheeses. In summary, a really great wine at an...
Gewurztraminer of Abbazia Novacella, is an aromatic white wine, which is of straw yellow color with gold reflections. It offers a bouquet of rose and licks, cinnamon, vanilla, sweet figs and grapefruit. On the palate...
Vineyard of the Lume is produced to the east of Ischia Island, 100 meters from the sea level, in the Punta del Lume resort, which is called "o 'lummo". It has a pale yellow color, a floral aroma and almost ripe fruit,...
"Theodosius" is named after a Byzantine emperor, a Basileus, whose effigy, which dates back to a 5th century coin, became the symbol of the company. Ruby red wine with violet tendency. Fruits of precious species of...
A family tradition, a wine that tells you. Antonio Castagnedi loves his family and the good wine of his land. This Amarone of the Valpolicella, Castagnedi selection, is ruby red with purple reflections, has a scent...
Falanghina del Sannio by Feudi di San Gregorio DOC: a selection of the best grapes that come from small vineyards in the Sannio. The wine has a straw yellow color with greenish reflections. The aroma is intense and...
The grapes come from vineyards on the steep hills of Roero. On these soft and permeable soils, which provide plenty of trace elements while simultaneously providing an instant expression of bouquet, Arneis grapes find...